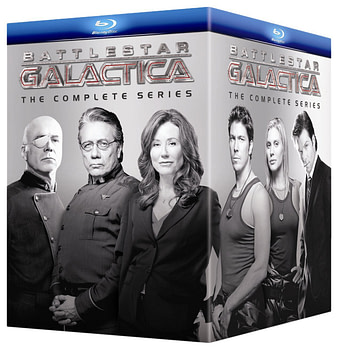 The complete Battlestar Galactica Blu-ray set is currently sitting on my shelf awaiting a re-watch and an introduction to my girlfriend, once we finally finish re-watching The West Wing.
If I didn't already own the set though I'd certainly be picking it up today. The set is Amazon's Gold Box deal today and has been discounted by 70%. This means that you can pick up all 21 discs of the series on Blu-ray for just $89.99.
The discs are all region free so if you're locked to another region then you are free to import it. If you live in the UK though you may want to take a look at the UK box set.
That set is currently at £64.72 on Amazon and will most likely work out slightly cheaper when you factor in the shipping.
This set doesn't include the very recent prequel series Battlestar Galactica: Blood & Chrome but that series can be picked up as a separate 2-disc set.