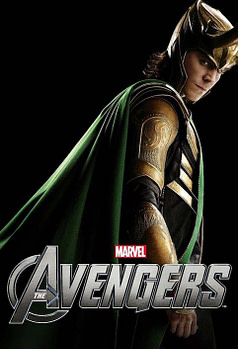 There were a lot of Lokis at San Diego Comic-Con, and almost without exception, they were movie Lokis.
One of them was clearly head and shoulders above the others, but he did have one small advantage. He was Tom Hiddleston himself.
At the start of Marvel's Hall H panel, the lights went out, the sound of thunder filled the air and a flash of lightning introduced us to the Asgard Royal Family's black sheep.
I liveblogged the event, and you can even watch the section of the panel featuring Hiddleston below. It's triple-A panto fun.
[youtube]http://www.youtube.com/watch?v=rmM0ahZzWuc[/youtube]
The next Marvel movie is Thor: The Dark World, and that alone would be reason enough to bring Loki by for a show, but it seems like the studio's plans for the character don't stop there.
Speaking with Empire, Marvel masterplanner Kevin Feige admitted that:
We think Loki could be the big bad for us, for a long time.
They're buoyed on, he suggested, by seeing all of the cosplay, or the amazing reception that greeted Hiddleston in Hall H. And it was the single most excited response I saw in the whole of Con, I think.
So what does that mean? Will Loki get the upper hand in the next Thor movie? Will he secretly be behind the bad things that are going down? Or will he rise back up and take control as the movies keep coming?
We're waiting to see Thanos, of course; The Collector is expected in a number of upcoming movies; and Ultron is now on the way too, so there's a lot of pretty powerful antagonists on deck.
But Feige's comment seems to tell us that Loki will, ultimately, be the one pulling the strings. "The big bad," he said, with a "the."
We have Hiddleston to thank for this, I believe. He's nailed the role so perfectly, and really gets the tone right – on screen, and as we now see, off. Hats off to Kenneth Branagh for casting him, too. Genius move.
Thor: The Dark World will be released on November 8th in US, just over a week earlier on October 30th in the UK.