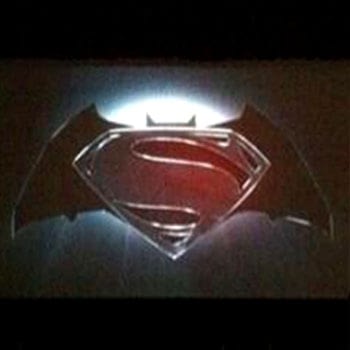 Warner Bros. ended their panel with a big surprise, or two. After Tom Cruise and company had shuffled away, out came Zack Snyder to take the chairman's lectern.
"Some shit is gonna happen up here," he said. And then it did. Snyder started by telling us that it's official that there's going to be another Superman movie… and then bringing out Harry Lennix, the actor from Man of Steel, to tell us that Batman is in it.
Lennix read from The Dark Knight Returns and that sealed it. And there it was, a logo on screen mixing the S shield and Batman logo.
And Hall H  lost their minds. People were on their feet and screaming – literally screaming – and the girl next to me was in floods of tears.
Do note that the passage Lennix read was the following one, sugesting that Batman and Superman might not be the best of friends in the new movie:
I want you to remember, Clark… in all the years to come, in your most private moments, I want you to remember my hand at your throat. I want you to remember the one man who beat you…
See also:
Warner Bros. Announce Zack Snyder And David Goyer Writing Batman-Superman For 2014 Shoot
No Flash Or Justice League Films Announced At Comic-Con
Enjoyed this article? Share it!