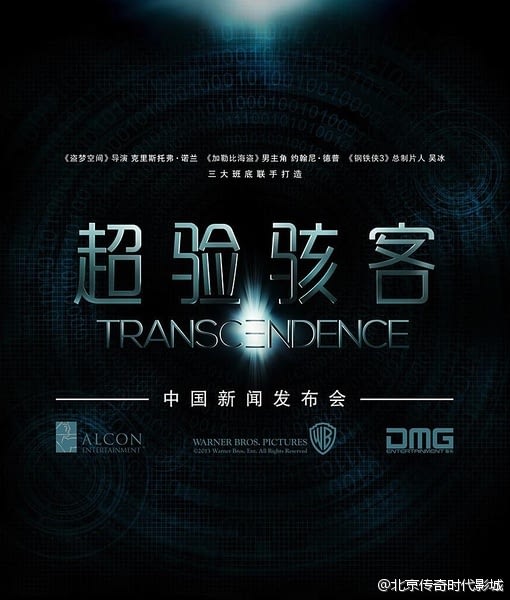 Transcendence will mark regular Chris Nolan collaborator Wally Pfister's debut as a director and he's already made at least one smart move by getting involved with DMG, the company headed up Dan Mintz.
You'll see their logo in the bottom right of this poster and Mintz standing on the right in the image below, which also features an obscured view of more of the promotional artwork for the film. All of the images and the featurette in this post come via MTime.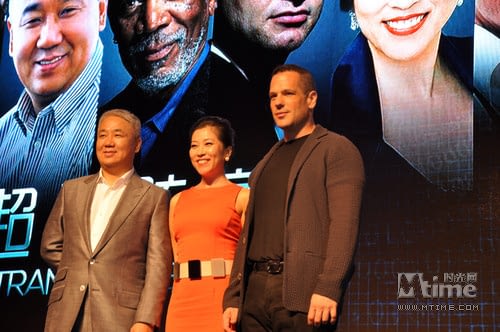 DMG have worked to create links between Hollywood and China, helping to open up a Sino market for American films. And Mintz has done a pretty great job so far, with Looper and Iron Man 3 both achieving notable success there.
Unlike those two films Transcendence will not have a different version playing on Chinese screens – or that's as far as I can tell from Google's translation of the article. The different versions of Looper and Iron Man 3 were reportedly not  too popular in China, with audiences being able to see through the ploy. It will, however, be interesting to see if Transcendence goes through any changes after going in front of the Chinese censors.
According to Deadline DMG are partnering with Alcon Entertainment on Transcendence and this could mark the beginning of a beautiful, or at least profitable, relationship as the companies will also be working together on the Point Break remake.
The companies announced their partnership at an event held in China this week and MTime also managed to grab the following photo.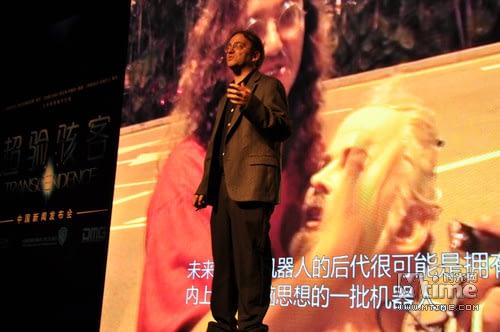 What on earth is going on in that image behind him? Is that from the film? Can any Chinese speaking Little Bleeders help shed some light on this?
Mtime also posted a featurette for the film, which was created for China and features a look at some of the pre-visualisation and planning that Pfister is doing in miniature, and a slightly awkward to-camera piece by Rebecca Hall. Also, if you were in any doubt about what format Pfister is shooting in, look no further than the first few seconds of this promo.
Transcendence will star Johnny Depp, Kate Mara, Cillian Murphy and Paul Bettany, as well as the aformentioned Rebecca Hall, some of who you can spy in the above video and two of who can also be seen in the below set picture.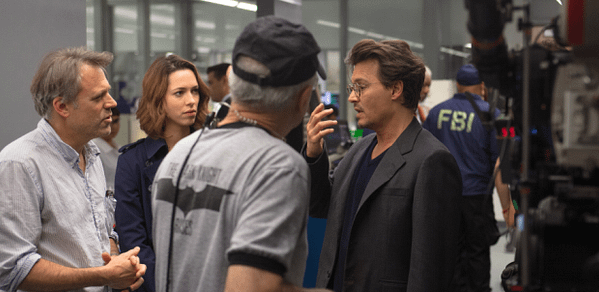 Transcendence will be released in American cinemas on the 18th of April 2014 and will presumably open around the same time in China.
Enjoyed this article? Share it!