You may not know Superlópez but you'll recognise many elements from his backstory.
He was born on an alien world and travelled to Earth in a little spacecraft. Here, he was raised by human parents and took on the alias of an office worker. He became romantically entangled with a young woman called Luisa Lanas. Eventually, he joined El Supergrupo.
I'm sure you can see what his creator, Juan López Fernández, is driving at.
Here's a sample of four pretty much worldless gags.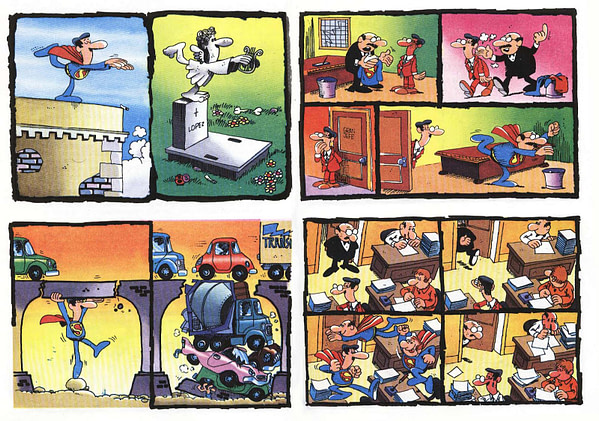 According to my Sunday Morning wiki-research at least, some of the more recent strips – while still comedic – leap into chewier stuff. I'd be interested to see some of those, and find out how the style blends with stories about gun running, illegal immigration and the drug trade. Until now, all I'd known of Superlópez was the sort of stuff in the panels above – wispy, throw away things.
Alex De Iglesia, one of Spain's foremost geek-friendly genre directors and probably best loved, still, for Day of the Beast, is now lining up Superlópez as an upcoming project.
There aren't many details as yet, but the rather winning Spanish movie blog Las Horas Perdidas have read in the magazine Fotogramas that José Mota will be taking the lead role.
Here's Mota, in all of his non-Henry Cavillness.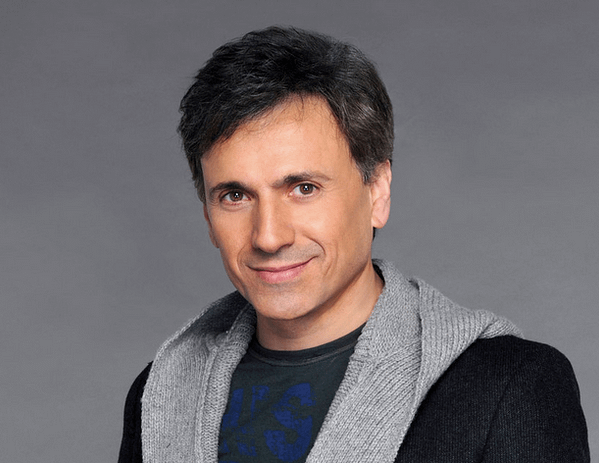 De Iglesia and Mota recently collaborated on the ironic satire, Spark of Life, the story of a man whose skull is impaled on a spike, unable to move without dying but quickly turned into a media spectacle.
Perhaps this indicates their Superlópez movie will have a little bite. They certainly have a taste for black humour.