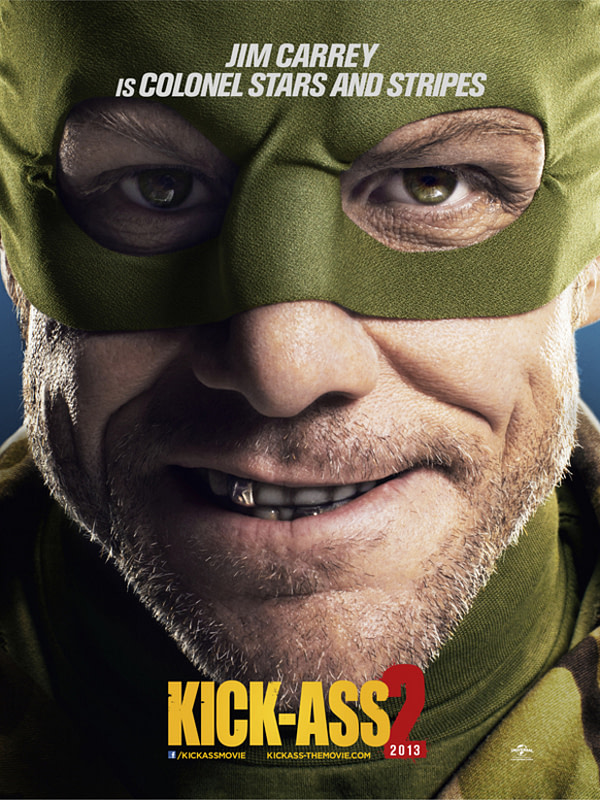 As we draw in on the release date for Kick-Ass 2, the film's distributors, marketing teams and PRs will be starting to make plans for promotions and press junkets.
Unfortunately for them, it doesn't look like they'll be able to count on their biggest marquee name to take part.
Jim Carrey has taken to Twitter today, and shared his latest feelings on the movie.
I did Kickass a month b4 Sandy Hook and now in all good conscience I cannot support that level of violence. My apologies to e

— Jim Carrey (@JimCarrey) June 23, 2013
I meant to say my apologies to others involve with the film. I am not ashamed of it but recent events have caused a change in my heart.

— Jim Carrey (@JimCarrey) June 23, 2013
I do find these to be relatable considerations. Sadly, the Sandy Hook massacre was not the first mass shooting of its kind nor was it the last, but it did seem to provoke a lot of reflection, and I only respect Carrey for being thoughtful and careful.
Not having seen Kick-Ass 2 I don't know exactly what Carrey is referring to, but I find it hard to conceive of any "level of violence" being inherently objectionable. The meaning or "message" of the violent scenes might be due some scrutiny, and perhaps that's what Carrey is referring to.
Or maybe it's a matter of this being a film that plays its extreme violence for laughs, or to an unsuitably young audience, or some other specifics of how the "level of violence" is being applied.
Judging from the comics, though, and what I saw in the first film, I think there's a serious attempt in Kick-Ass –  behind all the jokes and sometimes actually by them –  to talk about a culture of violence. My feelings are that we need more films about this subject, not less. And that the violence in these films certainly shouldn't be too tidy or discreet as to seem painless or without consequence.
If Kick-Ass 2 has a message that violence is fun, then I don't think the "level" of its portrayal is really the issue. Some of the most controversial presentations of violence in film and TV can be G or PG rated ones – remember The A-Team, for example, where hundreds of shootouts and car crashes resulted in little more than minor inconvenience for the victims.
I've never been presented with any evidence that controlling violence in films could prevent violence in the real world. In fact, it would be a bit of a dream to see that evidence turn up because suddenly, right there, we'd know something very easy we could do that would mean less violence, less pain and suffering.
Kick-Ass 2 will be along in July in the US and August in the UK. I do wonder if Jim Carrey has seen the finished film or, if he hasn't, the full picture might cause another change of heart in the meantime.
UPDATE: Kick-Ass creator Mark Millar has responded to Carrey's comments.
Enjoyed this article? Share it!