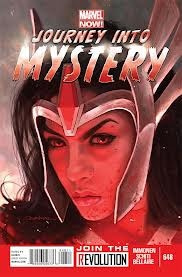 The new Marvel solicitations for September are full of Infinity Heists and the like, as well as confirming the cancellation of Morbius. But… no sign of Journey Into Mystery?
The comic currently being written by Kathryn Immonen starring the Asgardian Sif seems to be missing from the new solicitations. Has it, like Red She-Hulk, been disappeared without a Final Issue note in the solicitations? If so, expect the final issue in August. If not, expect someone to whack me upside the head and the book to return in October.
Emails send to Marvel representatives were not returned as of now. I'm about to go offline for a couple of hours, maybe I'll have news when I emerge from the darkness.