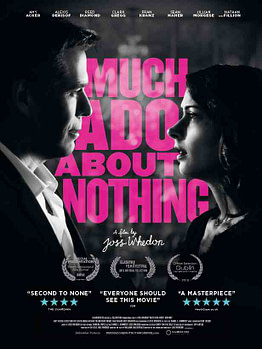 Joss Whedon's rather winning film of Much Ado About Nothing opens across the UK this Friday and tonight received its gala screening in London.
We were there at the screening, in the person of Ben Mortimer, and had a few minutes to chat with Whedon before the curtain went up. We talked about Much Ado, about how Whedon might approach the Hamlet adaptation he fancies as his Shakespeare follow-up, and also some business about the Marvel Movieverse.
We'll start with Whedon's comments when Ben asked him about the large amount of British-and-Irish actors being linked with the Marvel Movieverse. Ben explicitly named Karen Gillan, Aaron Johnson and Saoirse Ronan, prompting Whedon to drop an um and an ah and then go on.
Some things [obscured audio] or deny… and James Gunn is getting some of that. We heard that there were some actors in England who had some training and might be good. But I don't know any personally.
We're following Guardians at Shepperton [with Avengers 2] but we won't be swapping cast members. Every movie is its own thing and has to be. Unless I take a lot of peyote and write a very different draft… and I'm not ruling that out.
It's a privilege to be able to do something like Much Ado, to be able to get people together in my house, to have spent so much time accumulating around me these actors that I can think of a mad scheme like this and actually pull it off.
I would love to do Hamlet but I don't think I would love to do it in twelve days. You approach everything differently and with Much Ado we wanted to capture some of the essence of what it was like to do be reading it at the house. We wanted to make a film but at the same time have the energy of live performance. This dictated, as did my schedule, doing it on the quick. But Hamlet is something where I'd have to stand back a bit. I don't think I can just rattle it off. It's not going to be a Vine starring Hamlet. Though, actually, it might. Again, peyote is the x-factor there.
TV is very much the same thing [as low budget films like Much Ado About Nothing] in that you accomplish a lot in a small amount of time. It takes a lot to get to that small amount of time but then it's all go. I like that. I like that energy. Even on the big films I like to move quickly.
I'll be as hands on [with Agents of SHIELD] as I can. I've stocked it with writers that I know and respect and trust because, obviously, I have this other film that I have to make. It's going to be on a case by case but I'll be in every story, every cut and all of that stuff.
Thanks again to Whedon for taking the time to speak with Ben, and to Ben for being beautiful.
I can recommend Much Ado About Nothing right from my heart. Catch it in UK cinemas from this weekend, and if you're in the US, keep an eye open too as it's already out there, on just a handful of screens, but it's starting to spread.
Enjoyed this article? Share it!