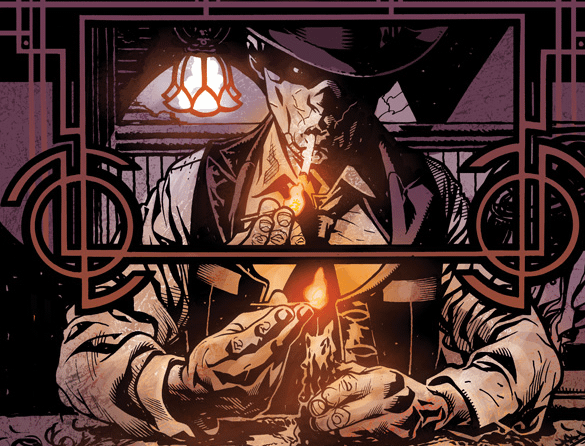 Next week, we get the debut of X, Chin Music, Damsels, Grimm and the first proper issue of Uber, we also get a new Buffy, Batman, Walking Dead, Avengers, Uncanny Avengers, Uncanny X-Force and Ferals.
The week after? Well we're all about Doomsday, Half Past Danger, both Dream Thief and Dream Merchant in the same week, and the new D'n'A Battlestar Galactica.
But before them both? Free Comic Book Day folks!
DARK HORSE COMICS
BTVS SEASON 9 FREEFALL #21 JEANTY VAR CVR
$2.99
BTVS SEASON 9 FREEFALL #21 NOTO CVR
$2.99
BTVS SEASON 9 TP VOL 03 GUARDED
$17.99
CHRONICLES OF KING CONAN TP VOL 05 BLACK DRAGONS
$18.99
CREEPY COMICS #12
$4.99
CRIMINAL MACABRE NO PEACE DEAD MEN TP
$17.99
FREAKS AMOUR GN
$17.99
PATH OF THE ASSASSIN TP VOL 01 SERVING DARK (NEW PTG) (MR)
$9.99
STAR WARS #5
$2.99
X #1 (MR)
$2.99
X #1 RIVERA VAR CVR (MR)
$2.99
DC COMICS
BATMAN #20
$3.99
BATMAN #20 BLACK & WHITE VAR ED
$3.99
BATMAN #20 COMBO PACK
$4.99
BATMAN #20 VAR ED
$3.99
BATMAN AND RED HOOD #20
$2.99
BATMAN ARKHAM UNHINGED #14
$3.99
BATMAN DEATH BY DESIGN TP
$14.99
BATMAN INCORPORATED HC VOL 01 DEMON STAR (N52)
$24.99
CONSTANTINE #3
$2.99
CONSTANTINE #3 VAR ED
$2.99
DEATHSTROKE #20
$2.99
DEMON KNIGHTS #20
$2.99
GREEN LANTERN CORPS #20 (WRATH)
$2.99
GREEN LANTERN CORPS #20 VAR ED (WRATH)
$2.99
HELLBLAZER TP VOL 05 DANGEROUS HABITS NEW ED (MR)
$19.99
JUSTICE LEAGUE OF AMERICA #3
$3.99
JUSTICE LEAGUE OF AMERICA #3 BLACK & WHITE VARIANT ED
$3.99
JUSTICE LEAGUE OF AMERICA #3 COMBO PACK
$4.99
JUSTICE LEAGUE OF AMERICA #3 MAD VAR ED
$3.99
KATANA #4
$2.99
KATANA #4 VAR ED
$2.99
LEGION OF SUPER HEROES TP VOL 02 DOMINATORS (N52)
$16.99
RAVAGERS #12
$2.99
RAVAGERS TP VOL 01 THE KIDS FROM NOWHERE (N52)
$16.99
SHOWCASE PRESENTS SUPERMAN FAMILY TP VOL 04
$19.99
SMALLVILLE SEASON 11 #13
$3.99
SUICIDE SQUAD #20
$2.99
SUPERBOY #20
$2.99
TEAM 7 #8
$2.99
THRESHOLD #5
$3.99
DC COMICS/DC COLLECTIBLES
GREEN LANTERN SIMON BAZ AF
$24.95
IDW PUBLISHING
FEVER RIDGE MACARTHUR JUNGLE WAR #3 [DIG/P+]
$3.99
MEMORIAL IMAGINARY FIENDS #3
$3.99
MICHAEL GOLDEN GI JOE ARTIST ED PORTFOLIO
$30.00
ROCKETEER ADVENTURES TREASURY ED
$9.99
ROCKETEER HOLLYWOOD HORROR #4 [DIG/P+]
$3.99
STAR TREK ONGOING #20 [DIG/P+]
$3.99
IMAGE COMICS
BOMB QUEEN DLX ED HC VOL 02 (MR) [DIG]
$24.99
CHIN MUSIC #1 (MR) [DIG]
$2.99
COMEBACK TP [DIG]
$14.99
PROPHET #35 [DIG]
$3.99
STORM DOGS #5 (MR) [DIG]
$3.50
THIEF OF THIEVES TP VOL 02
$14.99
WALKING DEAD #110 (MR) [DIG]
$2.99
WITCHBLADE #166 CVR A BERNARD [DIG]
$2.99
WITCHBLADE #166 CVR B CHRISTOPHER
$2.99
MARVEL COMICS
ALPHA BIG TIME #4
$2.99
ASTONISHING X-MEN #62
$3.99
AVENGERS #11 NOW
$3.99
AVENGERS ARENA #9 NOW2
$2.99
AVENGERS ARENA TP VOL 01 KILL OR DIE TP NOW
$15.99
AVENGERS ASSEMBLE #15AU NOW
$3.99
AVENGERS HEART OF STONE TP
$24.99
AVENGERS VS X-MEN HC COMPANION
$99.99
AVENGING SPIDER-MAN #20
$3.99
AVENGING SPIDER-MAN THREATS AND MENACES TP
$14.99
CASTLE A CALM BEFORE STORM #5
$3.99
DEADPOOL #9 NOW2
$2.99
ESSENTIAL DEFENDERS TP VOL 07
$19.99
FEARLESS DEFENDERS #4 HANS VAR NOW
$2.99
FEARLESS DEFENDERS #4 NOW
$2.99
IRON MAN #258.2
$3.99
MARVEL UNIVERSE AVENGERS EARTHS HEROES #14
$2.99
MARVEL UNIVERSE ULT SPIDER-MAN DIGEST TP VOL 03
$9.99
SECRET AVENGERS #4 BROOKS VAR NOW
$3.99
SECRET AVENGERS #4 NOW
$3.99
SHANNA BY MANARA POSTER
$8.99
SPIDER-MEN TP
$19.99
STAND TP VOL 06 NIGHT HAS COME
$19.99
STORM BY MANARA POSTER
$8.99
SUPERIOR SPIDER-MAN BY MARTIN POSTER
$8.99
THOR GOD OF THUNDER #8 NOW2
$3.99
THUNDERBOLTS TP VOL 01 NO QUARTER NOW
$15.99
ULT COMICS SPIDER-MAN BY BENDIS TP VOL 03
$19.99
ULTIMATE COMICS ULTIMATES #24
$3.99
UNCANNY AVENGERS #8 MANARA WASP VAR NOW2
$3.99
UNCANNY AVENGERS #8 NOW2
$3.99
UNCANNY X-FORCE #4 CAMUNCOLI VAR NOW
$3.99
UNCANNY X-FORCE #4 NOW
$3.99
WOLVERINE #3 MCGUINNESS VAR NOW
$3.99
WOLVERINE #3 NOW
$3.99
WOLVERINE BY DELLOTTO POSTER
$8.99
WOLVERINE YOUNG READERS NOVEL TP
$6.99
:01 FIRST SECOND
NOTHING CAN POSSIBLY GO WRONG GN
$16.99
RED HANDED FINE ART STRANGE CRIMES HC
$26.99
ABRAMS COMICARTS
RAVEN GIRL GN
$19.95
AC COMICS
MEN OF MYSTERY #89
$29.95
AMRYL ENTERTAINMENT
CAVEWOMAN OASIS #1 ROOT SP ED NUDE (A)
$8.00
AMULET BOOKS
WILL AND WHIT GN
$12.95
APE ENTERTAINMENT
DREW HAYES POISON ELVES #1 2ND PTG (MR)
$2.99
ARCHAIA ENTERTAINMENT LLC
MUMBAI CONFIDENTIAL HC BOOK 01 GOOD COP BAD COP
$24.95
ARCHIE COMIC PUBLICATIONS
JUGHEADS DOUBLE DIGEST #192 [DIG/P+]
$3.99
LIFE WITH ARCHIE #29 JON GRAY VAR CVR
$3.99
LIFE WITH ARCHIE #29 REG CVR [DIG/P+]
$3.99
MEGA MAN #25 EVIL FRIENDS FOREVER VAR CVR
$2.99
MEGA MAN #25 GATEFOLD CVR [DIG/P+]
$2.99
SONIC SUPER SPECIAL MAGAZINE #7 [P+]
$9.99
ASPEN MLT INC
EXECUTIVE ASSISTANT ASSASSINS #10 CVR A GUNDERSON
$3.99
EXECUTIVE ASSISTANT ASSASSINS #10 CVR B ODAGAWA
$3.99
FATHOM VOL 4 #9 CVR A KONAT [DIG]
$3.50
FATHOM VOL 4 #9 CVR B CAFARO
$3.50
FATHOM VOL 4 #9 CVR C KONAT SKETCH INCV
$4.00
LEGEND O/T SHADOWCLAN #4 DIRECT CVR A
$3.99
LEGEND O/T SHADOWCLAN #4 DIRECT CVR B
$3.99
LEGEND O/T SHADOWCLAN #4 DIRECT CVR C
$3.99
LEGEND O/T SHADOWCLAN #4 DIRECT CVR D
$3.99
AUTOMATIC PICTURES
HATTER M LOOKING GLASS WARS HC VOL 04 ZEN
$24.99
HATTER M LOOKING GLASS WARS TP VOL 04 ZEN
$14.95
AVATAR PRESS INC
FERALS #14 (MR)
$3.99
FERALS #14 GORE CVR (MR)
$3.99
FERALS #14 SLASHED ORDER INCV (MR)
$3.80
FERALS #14 WRAP CVR (MR)
$3.99
UBER #0 ENHANCED ED
$4.99
UBER #1 (MR)
$3.99
UBER #1 BLITZKRIEG ORDER INCV CVR (MR)
$3.80
UBER #1 PROPAGANDA POSTER CVR (MR)
$3.99
UBER #1 WRAP CVR (MR)
$3.99
BIG DOG INK
CRITTER (ONGOING) #11
$3.50
LEGEND OF OZ SCARECROW #1
$3.50
LEGEND OF OZ THE WICKED WEST ONGOING #7
$3.50
BIRDCAGE BOTTOM BOOKS
SNAKE PIT GETS OLD GN (MR)
$16.95
BLACK MASK COMICS
12 REASONS TO DIE #1
$3.50
BONGO COMICS
MYLO XYLOTO #4
$3.99
BOOM! STUDIOS
BRAVEST WARRIORS #8 MAIN CVRS [DIG]
$3.99
FANBOYS VS ZOMBIES TP VOL 02
$14.99
HELLRAISER THE ROAD BELOW TP VOL 01 (MR)
$14.99
PLANET OF THE APES CATACLYSM TP VOL 01
$14.99
STEED & MRS PEEL TP VOL 01 VERY CIVIL ARMAGEDDON
$14.99
SUPURBIA ONGOING #7 [DIG]
$3.99
TWO GUNS SECOND SHOT DLX ED TP
$19.99
Conundrum International
LIBRARY CHIHOI HC (MR)
$20.00
D. E.
DAMSELS MERMAIDS #1 CVR A RENAUD
$3.99
DAMSELS MERMAIDS #1 CVR B ANACLETO
$3.99
DAMSELS MERMAIDS #1 ELIOPOULOS SUBSCRIPTION VAR
$3.99
DARK SHADOWS #16
$3.99
GARTH ENNIS BATTLEFIELDS #6 FALL & RISE PT 3 (MR)
$3.99
GRIMM #1
$3.99
GRIMM #1 PHANTOM VAR
$3.99
GRIMM #1 PHOTO SUBSCRIPTION VAR
$3.99
JIM BUTCHERS DRESDEN FILES GHOUL GOBLIN #4
$3.99
PROPHECY TP
$19.99
RED SONJA ANNUAL #4
$4.99
VAMPIRELLA #29
$3.99
WARLORD OF MARS #24 (MR)
$3.99
WARLORD OF MARS DEJAH THORIS #25 (MR)
$3.99
DRAWN & QUARTERLY
PAYING FOR IT GN
$19.95
PLAYBOY GN (NEW ED) (MR)
$16.95
YOURE ALL JUST JEALOUS OF MY JETPACK HC (MR)
$19.95
DYNAMIC FORCES
DF TRANSFORMERS SPOT TRAILCUTTER #1 EXC CVR
$10.00
FANTAGRAPHICS BOOKS
WALT DISNEY DONALD DUCK HC VOL 03 CASTLES SECRET
$28.99
HERMES PRESS
JOHNNY HAZARD DAILIES HC VOL 02 1946-1948 (RES)
$49.99
HOUGHTON MIFFLIN HARCOURT
LITTLE PRINCE GN
$12.99
KENZER & COMPANY
KNIGHTS OF THE DINNER TABLE #197
$5.99
MOONSTONE
SAVAGE BEAUTY TP
$11.99
NBM
TREASURY OF MURDER SET
$26.99
PAPERCUTZ
BENNY BREAKIRON HC VOL 01 RED TAXIS
$11.99
SMURFS GN VOL 15 SMURFLINGS
$5.99
SMURFS HC VOL 15 SMURFLINGS
$10.99
PS ARTBOOKS
ACG COLL WORKS OUT OF THE NIGHT SLIPCASE ED VOL 01
$62.99
HARVEY HORRORS WITCHES TALES SLIPCASE ED VOL 03
$119.99
ROY THOMAS PRESENTS THE HEAP SLIPCASE ED VOL 01
$119.99
REBELLION / 2000AD
SLAINE GRAIL WAR GN (MR)
$29.99
SELFMADEHERO
DON QUIXOTE COMP GN
$27.50
SANDCASTLE GN
$19.95
SEVEN SEAS ENTERTAINMENT LLC
DANCE IN THE VAMPIRE BUND GN VOL 14 (MR)
$13.99
ZEROS FAMILIAR OMNIBUS TP VOL 01 (MR)
$19.99
SQPINC
MAGENTA GN VOL 01 COLOR OF SEX (A)
$12.95
MAGENTA GN VOL 02 POWER OF PINK (A)
$12.95
MAGENTA GN VOL 03 LOOK OF LUST (A)
$12.95
TH3RD WORLD STUDIOS
SHADOWGIRLS HC
$29.95
TITAN COMICS
CLINT 2.0 #7 (MR)
$6.99
TOOL PUBLICATIONS
WESTWARD TP VOL 01
$15.99
TOP SHELF PRODUCTIONS
WE CAN FIX IT GN (MR)
$14.95
UNITED PLANKTON PICTURES
SPONGEBOB COMICS #20
$2.99
VALIANT ENTERTAINMENT LLC
ARCHER & ARMSTRONG (VU) #0 20 COPY INCV FOWLER
$3.99
ARCHER & ARMSTRONG (VU) #0 PULLBOX GARBETT
$3.99
ARCHER & ARMSTRONG (VU) #0 REG HENRY
$3.99
HARBINGER (ONGOING) #0 2ND PTG
$3.99
HARBINGER (VU) #12 HARBINGER WARS EVANS VAR
$3.99
HARBINGER (VU) #12 HARBINGER WARS REG REEDER
$3.99
VERTICAL INC
HEROMAN GN VOL 04
$10.95
VIZ MEDIA LLC
BAKUMAN TP VOL 19
$9.99
BLACK BIRD GN VOL 16
$9.99
BLEACH 3-IN-1 ED TP VOL 05
$14.99
CLAYMORE TP VOL 22
$9.99
DENGEKI DAISY GN VOL 12
$9.99
HUNTER X HUNTER TP VOL 30
$9.99
LA CORDA DORO TP VOL 17
$9.99
NARUTO 3-IN-1 ED TP VOL 05
$14.99
NARUTO TP VOL 61
$9.99
OTOMEN GN VOL 15
$9.99
POKEMON ADVENTURES TP VOL 16
$9.99
PSYREN GN VOL 10
$9.99
STROBE EDGE GN VOL 04
$9.99
TEGAMI BACHI GN VOL 13
$9.99
WE WERE THERE GN VOL 16
$9.99
WINX CLUB GN VOL 07
$6.99
ZENESCOPE ENTERTAINMENT INC
GFT ROBYN HOOD WANTED #1 50 COPY INCV CVR ARTGERM (MR
$9.99
GFT ROBYN HOOD WANTED #1 A CVR ARTGERM (MR)
$2.99
GFT ROBYN HOOD WANTED #1 B CVR SEJIC (MR)
$2.99
GFT ROBYN HOOD WANTED #1 C CVR TALIBOA (MR)
$2.99
WONDERLAND TP VOL 02
$15.99
And in two weeks…
DARK HORSE COMICS
BPRD HELL ON EARTH #107 WASTELAND #1
$3.50
CONAN THE BARBARIAN #16
$3.50
DRAGON RESURRECTION GN
$17.99
DREAM THIEF #1
$3.99
EDGAR ALLAN POES FALL O/T HOUSE OF USHER #1
$3.99
EERIE ARCHIVES HC VOL 13
$49.99
STAR WARS DARTH VADER & NINTH ASSASSIN #2
$3.50
TO HELL YOU RIDE #4
$3.99
DC COMICS
AQUAMAN HC VOL 02 THE OTHERS (N52)
$22.99
AQUAMAN TP VOL 01 THE TRENCH (N52)
$14.99
AUTHORITY HC VOL 01
$29.99
BATGIRL #20
$2.99
BATMAN BEYOND 10000 CLOWNS TP
$16.99
BATWOMAN #20
$2.99
BATWOMAN #20 VAR ED
$2.99
BIRDS OF PREY #20
$2.99
CATWOMAN #20
$2.99
FABLES #129 (MR)
$2.99
GREEN LANTERN THE ANIMATED SERIES #13
$2.99
HE MAN AND THE MASTERS OF THE UNIVERSE #2
$2.99
JSA LIBERTY FILES THE WHISTLING SKULL #6
$2.99
JUSTICE LEAGUE BEYOND KONSTRICTION TP
$16.99
JUSTICE LEAGUE OF AMERICAS VIBE #4
$2.99
JUSTICE LEAGUE OF AMERICAS VIBE #4 VAR ED
$2.99
LEGION OF SUPER HEROES #20
$2.99
NIGHTWING #20
$2.99
RED HOOD AND THE OUTLAWS #20
$2.99
SUPERGIRL #20
$2.99
SWORD OF SORCERY #8
$3.99
WONDER WOMAN #20
$2.99
WONDER WOMAN #20 VAR ED
$2.99
DC COMICS/DC COLLECTIBLES
BATMAN ARKHAM ASYLUM ARMORED BATMAN AF
$24.95
BATMAN ARKHAM ASYLUM JOKER WITH SCARFACE AF
$24.95
BATMAN ARKHAM ASYLUM SCARECROW AF
$24.95
BATMAN BLACK & WHITE STATUE BY MIKE ALLRED
$79.95
JUSTICE LEAGUE AQUAMAN ACTION FIGURE
$24.95
JUSTICE LEAGUE GREEN LANTERN ACTION FIGURE
$24.95
JUSTICE LEAGUE WONDER WOMAN ACTION FIGURE
$24.95
IDW PUBLISHING
BORDERLANDS ORIGINS TP [DIG]
$17.99
DOCTOR WHO PRISONERS OF TIME TP VOL 01 [DIG]
$17.99
DOOMSDAY.1 #1
$3.99
DOOMSDAY.1 #1 SUBSCRIPTION VAR
$3.99
GI JOE A REAL AMERICAN HERO #190 [DIG/P+]
$3.99
GI JOE COMPLETE COLL HC VOL 01 RED LABEL ED
$100.00
GI JOE SPECIAL MISSIONS #3
$3.99
HALF PAST DANGER #1 [DIG/P+]
$3.99
HALF PAST DANGER #1 SUBSCRIPTION VAR
$3.99
IRON SKY TP [DIG]
$17.99
JOHN K PRESENTS SPUMCO COMIC BOOK HC
$34.99
LOCKE & KEY OMEGA #5 [DIG/P+]
$3.99
MONOCYTE LTD RED LABEL ED HC
$93.75
MY LITTLE PONY FRIENDSHIP IS MAGIC #2 3RD PTG
$3.99
MY LITTLE PONY FRIENDSHIP IS MAGIC #7 [DIG/P+]
$3.99
MY LITTLE PONY FRIENDSHIP IS MAGIC TP VOL 01 [DIG]
$17.99
POPEYE CLASSICS ONGOING #10 [DIG/P+]
$3.99
STAR TREK JOHN BYRNE COLLECTION HC
$49.99
TMNT ONGOING #20 2ND PTG
$3.99
TMNT WORKS HC VOL 01
$49.99
TORPEDO TP VOL 03
$17.99
TRANSFORMERS FALL OF CYBERTRON #1 2ND PTG
$7.99
TRANSFORMERS PRIME RAGE O/T DINOBOTS TP [DIG]
$17.99
TRANSFORMERS REGENERATION ONE #91 [DIG/P+]
$3.99
TRANSFORMERS ROBOTS IN DISGUISE #17 [DIG/P+]
$3.99
IMAGE COMICS
DREAM MERCHANT #1 (MR) [DIG]
$3.50
EAST OF WEST #1 3RD PTG
$3.50
ELEPHANTMEN REVISED & EXPANDED HC VOL 01 (MR) [DIG]
$39.99
FATALE #14 (MR) [DIG]
$3.50
FIVE GHOSTS HAUNTING OF FABIAN GRAY #2 2ND PTG
$2.99
HOAX HUNTERS TP VOL 02 SECRETS AND LIES [DIG]
$12.99
IT GIRL & THE ATOMICS #10 [DIG]
$2.99
LEGEND OF LUTHER STRODE #5 (MR) [DIG]
$3.50
LIL DEPRESSED BOY TP VOL 04 [DIG]
$12.99
NON HUMANS #3 [DIG]
$2.99
PETER PANZERFAUST TP VOL 02 HOOKED
$14.99
REVIVAL #10 [DIG]
$2.99
SEX #2 2ND PTG (MR)
$2.99
SPAWN ORIGINS TP VOL 18
$14.99
THINK TANK #7 (MR) [DIG]
$3.99
VESCELL #8 (MR) (NOTE PRICE) [DIG]
$4.99
AGE OF ULTRON #3 2ND PTG HITCH VAR
$3.99
AGE OF ULTRON #8
$3.99
AGE OF ULTRON #8 7TH ORANGE VAR
$3.99
AGE OF ULTRON #8 ROCK HE KIM ULTRON VAR
$3.99
AMAZING SPIDER-MAN #700 4TH PTG STEGMAN VAR
$7.99
AVENGERS ENEMY WITHIN #1
$2.99
AVENGERS ENEMY WITHIN #1 MANARA VAR
$2.99
CABLE AND X-FORCE #8 NOW2
$3.99
CABLE AND X-FORCE #8 X-MEN 50TH ANNIVERSARY VAR NOW2
$3.99
CAPTAIN MARVEL TP VOL 02 DOWN
$14.99
DEADPOOL KILLUSTRATED #3 2ND PTG DEL MUNDO VAR
$2.99
FF #7 NOW
$2.99
GAMBIT #12
$2.99
INCREDIBLE HULK TP CROSSROADS
$39.99
INDESTRUCTIBLE HULK PREM HC VOL 01 AGENT OF SHIELD NOW
$24.99
IRON MAN #10 MOVIE VAR NOW2
$3.99
IRON MAN #10 NOW2
$3.99
MMW INVINCIBLE IRON MAN HC VOL 08
$69.99
MMW INVINCIBLE IRON MAN HC VOL 08 DM VAR ED 194
$69.99
NEW AVENGERS BY BRIAN MICHAEL BENDIS TP VOL 04 AVX
$24.99
NEW WARRIORS OMNIBUS HC VOL 01 BAGLEY DM VAR ED
$99.99
NEW WARRIORS OMNIBUS HC VOL 01 YOUNG CVR
$99.99
NOVA #4 NOW
$3.99
NOVA #4 PLATT VAR NOW
$3.99
SUPERIOR SPIDER-MAN #1 4TH PTG STEGMAN VAR NOW
$3.99
SUPERIOR SPIDER-MAN #3 3RD PTG STEGMAN VAR NOW
$3.99
THUNDERBOLTS #9 NOW2
$2.99
ULTIMATE COMICS SPIDER-MAN #23
$3.99
WOLVERINE AND X-MEN #29
$3.99
WOLVERINE AND X-MEN BY JASON AARON TP VOL 04 AVX
$16.99
WOLVERINE MAX #7 (MR)
$3.99
WOLVERINE OFFICIAL INDEX TO MARVEL UNIVERSE GN TP
$19.99
X-FACTOR #256
$2.99
ARCHIE COMIC PUBLICATIONS
MEGA MAN TP VOL 05 ROCK OF AGES
$11.99
AVATAR PRESS INC
CROSSED WISH YOU WERE HERE HC VOL 02 (MR)
$27.99
CROSSED WISH YOU WERE HERE TP VOL 02 (MR)
$19.99
NIGHT O/T LIVING DEAD AFTERMATH #8 (MR)
$3.99
NIGHT O/T LIVING DEAD AFTERMATH #8 GORE CVR (MR)
$3.99
NIGHT O/T LIVING DEAD AFTERMATH #8 TERROR ORD INCV CVR
$3.80
NIGHT O/T LIVING DEAD AFTERMATH #8 WRAP CVR (MR)
$3.99
BONGO COMICS
SIMPSONS COMICS #202
$2.99
 DYNAMITE
BATTLESTAR GALACTICA #1 (MR)
$3.99
BATTLESTAR GALACTICA #1 ELIOPOULOS SUBSCRIPTION VAR (MR)
$3.99
BIONIC MAN #20
$3.99
BIONIC MAN VS BIONIC WOMAN #5
$3.99
GREEN HORNET #36
$3.99
JENNIFER BLOOD #27 (MR)
$3.99
LORD OF THE JUNGLE #15 (MR)
$3.99
MARK WAID GREEN HORNET #2
$3.99
MARK WAID GREEN HORNET #2 LAU SUBCRIPTION VARIANT
$3.99
PATHFINDER #7
$3.99
PETER CANNON THUNDERBOLT #9 CVR A ALEX ROSS
$3.99
PETER CANNON THUNDERBOLT #9 CVR B JONATHAN LAU
$3.99
SHADOW #13
$3.99
SHADOW #13 BLANK AUTHENTIX CVR
$3.99
VOLTRON #12
$3.99
ZENESCOPE ENTERTAINMENT INC
GFT FLY THE FALL TP
$15.99
GFT GODSTORM TP
$12.99
GFT MADNESS OF WONDERLAND #4 A CVR LILLY (MR)
$3.99
GFT MADNESS OF WONDERLAND #4 B CVR GIUSEPPE (MR)
$3.99
GFT UNLEASHED VAMPIRES ETERNAL #2 A CVR SEJIC (MR)
$3.99
GFT UNLEASHED VAMPIRES ETERNAL #2 B CVR CHEN (MR)
$3.99