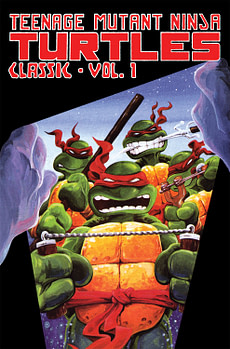 One lone report from CinemaCon in Las Vegas is reporting evidence that the Teenage Ninja Turtles are once again Mutant, and not aliens as had been previously planned.
A couple of rewrites, one studio shutdown and thirteen months year ago, Michael Bay told attendees of the Nickelodeon upfronts that his new Turtle movie was going to mix things up and change the character's origins. There was some upset.
The film is now in production, but there has yet to be an official rebuttal of all of the alien panic. Unless you count a logo, apparently projected onto a cinema screen for a few seconds.
All of the big studios had presentation sessions during CinemaCon and used them to premiere trailers, clips and even full films. During Paramount's session, say TMNT Lair, the studio showed a logo for the upcoming Turtle film.
And it called the film Teenage Mutant Ninja Turtles.
Now, this logo isn't anywhere online just yet, and despite there being any number of other bloggers, not to mention individuals with Twitter accounts, at the event, this is the only report on this matter I've seen.
So I'm sceptical.
And then there's the fact that them being Mutant, or being called Mutant, doesn't exactly prohibit them from being Alien too.
We heard, before the shutdown and rewrites, that the Turtles had been aged up. Current casting suggests that, actually, they're still young. I'm thinking that the new script has cut against the old one in a number of ways – and addressing the Alien panic was probably going to be a sound commercial decision.
I'll bring you corroboration if I can find any.