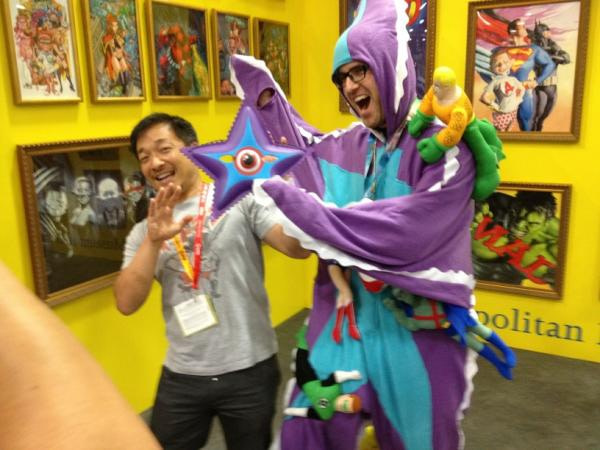 Will Romine here reporting from Wonder Con.  I 'm here at the Jim Lee panel where Jim is simultaneously sketching and answering questions.  I can't even shower and brush my teeth at the same time.  As a professional geek, I've been to a wide variety of panels at a wide variety of cons and I can tell you, there's nothing more satisfying when a fan favorite and Titan of the industry sits down with us common folk and churns out drawings and anecdotes aplenty.
Jim spoke a lot about his drawing techniques and how various artists have given him advice in the past.  Two pointers of note came from Mike Mignola.  First, was a demonstration on how to draw big guys.  Lee explained that each character body type has a distinct skeletal proportions.  To expand Batman's skeleton to Hulk proportions doesn't translate.  Instead, Mignola advised Jim to use a starfish as a base when drawing the big guys.  The second bit of advice Jim took, was how to draw hands.  Most folks use a square as the basis for the palm.  Mignola taught Jim to use an askew pentagram, and the world hasn't been the same since.
Jim also discussed costume design and how he balances the utilitarian with the flashy.  He spoke at length about how, when redesigning the new 52, he passed design elements through a "distance test"whereby if they weren't recognisable at a distance as the character, the design failed.  If an item was removed, and the costume still recognisable, then it was a contender.  Such elements that were casualties of this test were the gold elements of Wonder Woman's bustier and Superman's trunk.
As with all q and as, some interesting tidbits of information were dropped.  Not Earth shattering, but interesting none the less.
– Superman Unbound will feature a new villain, and not a new 52 version of an old one.
– All Star Batman/Dark Knight, Boy Wonder is still in limbo.  Jim has two scripts and various pages inked, including a file out spread of the Bat-copter over Gotham.  Unfortunately, between Frank Miller's involvement on Sin-City 2 and Jim Lee's larger role at DC, there won't be any progress anytime soon.
Jim also answered a question about Rob Liefeld's "Icons" script and who he would cast as himself.  After much deliberation, he settled on The Walking Dead's Stephen Yeun.
I gotta run friends.  Until next time, tweet me right @notacomplainer.