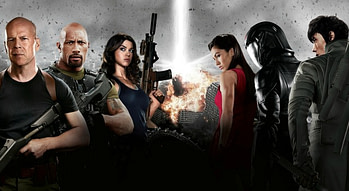 Laser projectors can really up the light level of an image. That's starting to look like an innovation we really need, and soon. Many cinemas run their screens at too low a light level, some even run 2D screenings with 3D polarisation still in place. Films just aren't always getting given the oomph they need to hit that screen and come bouncing back at you. And by 'always' I mean 'hardly at all.'
Christie Projectors are just one of the companies working on new laser projection systems. They held demonstrations of their kit last year, and all I heard was good word. The images are said to have been bright and clear, and praises rolled forth about the contrast and saturation levels.
Until now this kind of projection hasn't been available to the public. Next week, though, it gets a trial run… and the guinea pig will be GI Joe.
From the press release:
Christie®, a global leader in cinema projection, is pleased to present Paramount Pictures' highly anticipated G.I. JOE: RETALIATION on March 28 at AMC Theatres' (AMC) Burbank 16's ETX theatre. Christie is joining forces with AMC using laser projection technology to project the 3D movie at brightness levels of 14 foot lamberts (ft-L) – a 'first' in the world of commercial cinema projection – on a 65-foot wide screen. This technology test will last for a two-week period and will be the first time that the general public will be able to enjoy compelling, immersive 3D images delivered at 2D light levels.
So it's one film, in one cinema, for two weeks… and I won't be able to get anywhere near it.
I can't see the advance to laser projection failing at a technical or creative level. The real question, I think, is if Christie will be able to get a foothold commercially, convince exhibitors to change their projectors again. Tens of thousands of projectors around the world have only just been swapped out or upgraded. We're only a few years into the "digital revolution" and the cutting edge projection paradigm has changed almost annually.
I understand that RED, the camera people, are working on a similar, but cheaper laser projection system to Christie. Perhaps that will have a better chance? Could they disrupt exhibition the way they did production?
If we assume that exhibition needs to be saved from falling standards, these laser projectors are possibly crucial to the continued health of big screen movie viewing. And then if we can only get more lasers that shoot, not the screen this time, but rude patrons, people using their phones, Marge Simpson hairstyles.
If you do go to see GI Joe: Retaliation at one of these special screenings, please do get in touch. I'd love to hear about your experience.