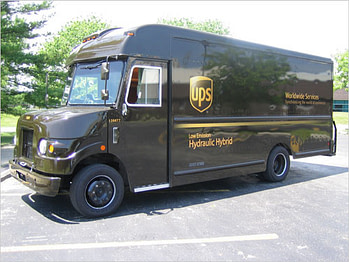 UPS is the new Logistics Sponsor for Free Comic Book Day 2013. Which makes them sound like the Olympics, I mean seriously, who sponsors Logistics?
Well, UPS, it seems.
This means Diamond Comics Distributors will be sending Free Comic Book Day boxes to comic stores separately from their usual shipment of weekly comics, via UPS.
Which should make it a lot easier for stores to separate the free from the expensive, ensuring that an employee doesn't put everything on the shelves at once by mistake, or having to store a series of boxes building up over a number of weeks. The boxes will have big orange stickers that read "Hold for On Sale Free Comic Book Day".
So, if you bare a shop clerk and you get a Diamond box with such a sticker on it do you
a) Put it in storage until Free Comic Book Day
b) Open it and stackj the conents on the shelf, charghing $3.9 a copy.
c) Scan them in and upload them
d) Put them on eBay.
I think you know the answer.
That's how it's wokring in the USA at least, Canadian and UK stores will still get their boxes all together in one shipment on April 10th or 17th.
UPS will also be subsidising freight costs for those who get their normal comics shipments without using UPS.
Enjoyed this article? Share it!