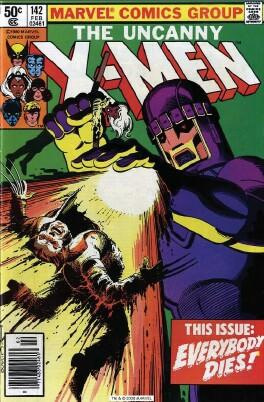 When I sat down with Bryan Singer a few weeks back we spoke about a whole wealth of things and so far, I've yet to tell you about even a quarter of it. Coming up this week will be a lot of our chatter, including a good discussion of his film Jack the Giant Slayer – which finally reaches UK cinemas this Friday, March 22nd.
Tonight, let's wrap up everything else he had to say about X-Men: Days of Future Past, beyond the Mark Millar and Apocalypse stories I already bought you.
So here's Bryan, starting with his comments that segue from Jack to X-Men.
I might have use for some of Jack the Giant Slayer's motion capture techniques [in Days of Future Past.] I don't want to say how because that would give away what's going to be in the movie, but I'll be using that and perhaps simulcam technology for certain things. And I will be shooting stereo, true stereo.
[Newton Thomas Sigel] will be shooting the film. I'm not sure which camera we're going to use. I've been debating between three. I had a good experience with the Epic Reds but X-Men will have it's own specific look. It takes place in different times, and those times will have different looks.
X-Men 3 was a strange situation for me. I didn't have anything to do with X-Men 3 or Wolverine except for the actor. I don't think Brett [Ratner] knows this but I was so emotionally charged up about seeing X-Men 3 that someone who wasn't supposed to took me into a building in the middle of the night and showed me it long before it was finished, on a computer, just so I could see it, understand what it is and not be freaked out when I went to the theatre to go see it.
[Eventually] I went to the Chinese theatre because I wanted to see it in a big theatre and they let me in, I had a baseball cap on, I hid in the back but suddenly, Brett Ratner shows up. He was like "Bryan!" and suddenly the audience [all see me] and Brett Ratner talking and I'm stood there sipping my soda out of a Superman cup.
There are parts of X-Men 3… it isn't what I would have done, but parts of it, I liked. Ellen Page was something I liked in X-Men 3 and I'm bringing her to Days of Future Past. Certain things are different. There was a lot going on in it and I wasn't so happy with so many people dying, but then there were some really sweet moments with that kid, the cure kid.
I just rewatched all the movies the other day. We had a big screening of every X-Men movie just to remind myself what they are. I don't go to see my movies.
I said I'll "fix a few things" [with Days of Future Past]. It won't be its primary function but there will be some fixing. It's a really cool story, and incidentally, it facilitates all of these characters. They weren't just thrown in there. And they all play a fun role.
I want there to be some humour and some fun. In Days of Future Past there are some genuinely things in it. I can't wait, and I know they will be fun to shoot. I want to keep that humour [because] the thing about X-Men is that the themes are serious, but the film doesn't need to be…
Some of the best stuff in Jack the Giant Slayer shows of Singer's playfulness and wit pretty well, I think, and there was definitely some lighter, even funny stuff in the first two X-Men films. I do think we can trust him to get the tone of Days of Future Past right, simply because of X2. That film just nails it.
Jack the Giant Slayer is out on Friday March 22nd. Days of Future Past starts shooting this April for a release next July.