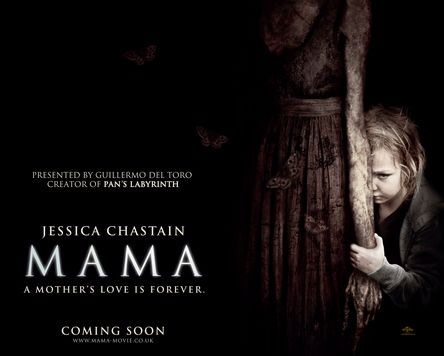 You may recall that before the weekend, I was speaking with Barbara Muschietti, the co-producer and co-writer of Mama. We had been cooling off too-early rumours about a supposedly imminent sequel to the film.
And now, you can read the rest of what Ms. Muschietti had to tell me. Here we discuss how the film was written, the valued contributions of the cast and crew and just what genre the movie falls into – if any. Of course, we also had time for a few words about Guillermo Del Toro, the film's guardian angel. Mama's own Papa ghost, hiding in the closet.
Here's Muschietti.
This is not the first script Andy [Muschietti, the director and Barbara's brother] and I wrote together. I think we've written four altogether. We generally first work on the structure together, starting with something like a "one liner" first and that's the hardest part.
After we have the structure, every day, in the morning we distribute the scenes. We live together, my Brother and I, so in the morning we divide the scenes between us, then in the evening or the day after we bring them back together and discuss them. We read them together and see if they work. When it's all done we do read-throughs and start rehashing stuff. So Andy and I wrote Mama together and when we had a first draft, Neil Cross came in to do some adjustments.
Because we're siblings, we're just eighteen months apart and we have very similar influences, we have a shorthand that allows us to do this without much trouble. Our egos are pretty tame, so if Andy tells me if something I've written is crap, it's fine, and if I do the same to him, it's fine as well.
The short film came before any idea for the feature. We have a production company that does commercials, mostly comedy commercials but we were writing a spooky screenplay called The Yearning. I said we need to shoot something that has the right ambience, a horror twist, so that people can see it's the kind of thing Andy can direct and we can write. We shot the short of Mama in a day and a half, with our own money and the Spanish government gave us a little too.
The short was an exercise more than anything. We weren't even thinking of it as a short, but we slapped some credits on it and presented it to Sitges [Festival] and then people started asking all sorts of questions. Questions we didn't answer in the short because we didn't have to. We weren't very responsible with the unanswered questions we were leaving in the story because we didn't think we'd do anything else with it. So then we had to go and start answering those questions, which was not easy. In different drafts Annabelle [Jessica Chastain's character] was less the hero and Lucas was a little more, but eventually she started becoming more of the powerful figure. But we always knew she had to be reluctant. We didn't want the typical horror mother, we really wanted to try to make these characters different – Annabelle, Lucas, the kids and Mama as well. Neither Andy or I has kids yet, we're in our late 30s and we're having a hard time growing up so there's probably something there to how we created Annabelle.
We're perfectionists so nothing will ever be exactly the way we want it to be. We're working with crews of three hundred humans to make films, with weather issues, actors who are human too. There's not one filmmaker who would ever tell you that their film is exactly what they want it to be. That filmmaker doesn't exist. But we were just so blessed with our cast, from Jessica Chastain to Nikolaj Coster-Waldau, Megan Charpentier and little Isabelle Nélisse. Isabelle had never been in front of a camera before but she is a natural. This is a seven year old that you are never going to be able to teach anything about acting. She's pure instinct but she nailed it every single time.
We had huge luck with the crew too, from Fernando Velázquez, who did an amazing job with the soundtrack, to Antonio Riestra our DP. I hope we have just fifty percent of this luck on our next film. I know we haven't mentioned him so far but, mostly, the star that guided us was Guillermo Del Toro. He's an incredibly generous master. He has a massive amount of knowledge that he'll share with you. Andy learned so much and I learned so much and Guillermo is the hardest working human I have ever met.
We had a huge learning curve on this project and we'll take the tools we've learned to our next film, for sure.
When we were four or five, our parents took us to the drive in to see Close Encounters of the Third Kind. That, to us at that age, was a horror film. It has all the components that would scare kids of that age. So I don't know if Mama is a horror film or a supernatural thriller but it's a film that will stir emotions and that's what we wanted to do.
Definitely there's some scares and some spooks, there's some jumps, but it's sad, it's emotional, there's nervous laughter. If people want to call it a horror film we welcome it, or whatever people want to call it.
So Mama doesn't always elicit fear. The ghost is Lily and Victoria's mom – they've been imprinted by this ghost and it's all that Lily knows as a mom. The story gets to a point where there's jealousy involved and that's where things go a little crazy, but before that there's no fear at all between the kids and Mama. For Victoria it's a balancing act living between both worlds but Lily is completely on Mama's side.
And that was all we had time for.
Mama is in cinemas across the UK now. It got off to a cracking start at the box office last weekend, so that's good. I really liked this one a good deal. You can hear me discuss it in depth in the most recent Bleeding Cool Movie Podcast.
Enjoyed this article? Share it!