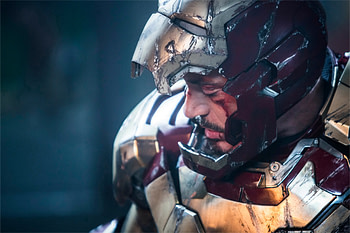 A second full-length trailer for Iron Man 3 has been readied for release with Oz The Great and Powerful. It runs two minutes and twenty five seconds, and according to the Little Bleeders who have seen it, it's rather spectacular.
Now, I don't want to go over and over the details when I haven't even seen the trailer myself, but here are some key points that I've been told by two sources a piece.
The President of the United States appears and declares war on The Mandarin and The Ten Rings, his terrorist group.
There are more shots of The Mandarin, and he continues to threaten Tony personally.
As a result, Tony gets rather cross. He says something like:
You've made this personal. I'm coming for you, Mandarin.
We see Tony and Rhodey flying in to battle, followed by a whole battalion of the other Iron Man armors. Tony calls them "his boys" and there's dozens of them. They're of all different looks and styles, some of them familiar, some of them new.
Indeed, the very last shot showcases one special suit of armour in particular, smashing through a wall. Neither of our Little Bleeders feel one hundred percent sure, having seen the fleeting shot only one time, but they both shared the same suspicion with me…
…could it really be Hulkbuster armour?
We'll find out soon enough. Oz The Great And Powerful rolls out on March 8th and you can expect to see this Iron Man 3 trailer with it.
Now, as a footnote: some reputed concept art from the film has been sent to us.
It seems to have originated at Comic Book Movie, and I have been trying to clarify its provenance – CBM aren't too open at revealing their sources or where they've taken images from, and their contributors have passed off fan works as real concept art before now.
In this case I'm sharing the pics as they so happen to feature Hulkbuster armour. You'll at least be able to check this image out and then compare it against the final shot of the new Iron Man 3 trailer when it comes along. If we have a match, then… great!