Caleb Monroe and Yasmin Liang take you through Steed And Mrs Peel #4, out this week from Boom!
Caleb Monroe: Welcome! This particular issue is quite near and dear to our hearts; mine because this is my first solo issue after a killer arc co-written with Mark Waid, and Yasmin's because it's her first issue on the book. It's also self-contained, so if you've heard or wondered about the series and been looking for a place to jump on and sample the goods, this is it.
Yasmin Liang: My first issue on the book and also my first issue on any ongoing series published by…anyone! I am very happy to be here.
Caleb: I'm sure you've already figured it out, but…SPOILER WARNING.
Around the time I first found out I might get a chance to work on a new Steed & Peel ongoing, my wife received this enormous coffee-table book for her birthday. It was called Bals, and was a pictorial history of legendary 20th-century costume balls, from the 1903 Romanov ball to the 1971 Proust ball. The one I personally found the most interesting was Truman Capote's infamous Black and White Ball in New York. When I discovered it took place late in 1966, which was also Emma Peel's first year on The Avengers, I knew I wanted to do a version of the ball somewhere in our comic. In fact, it was the first story I knew for sure when I began planning the year's story arc. It had been both an elegant and an eccentric event, which seemed like just the sort of place where John Steed and Mrs. Peel would be at home. Other than the ball itself, I also used the Ascott scene in My Fair Lady (one of Capote's own inspirations) as visual inspiration for this issue. I thought it could all be a very interesting way to "smuggle" a black and white issue into a color series.
PAGE 1
Caleb: Steed's first line is, of course, a variation on the infamous "Mrs. Peel, we're needed." I love—both on the show and in our comic—seeing Steed and Peel in each other's apartments. There's always such a casual comfortability about it.
Yasmin: Page 1 is a tad special since it's the first page I provided for this job. You can see I was just figuring out how to draw their likenesses.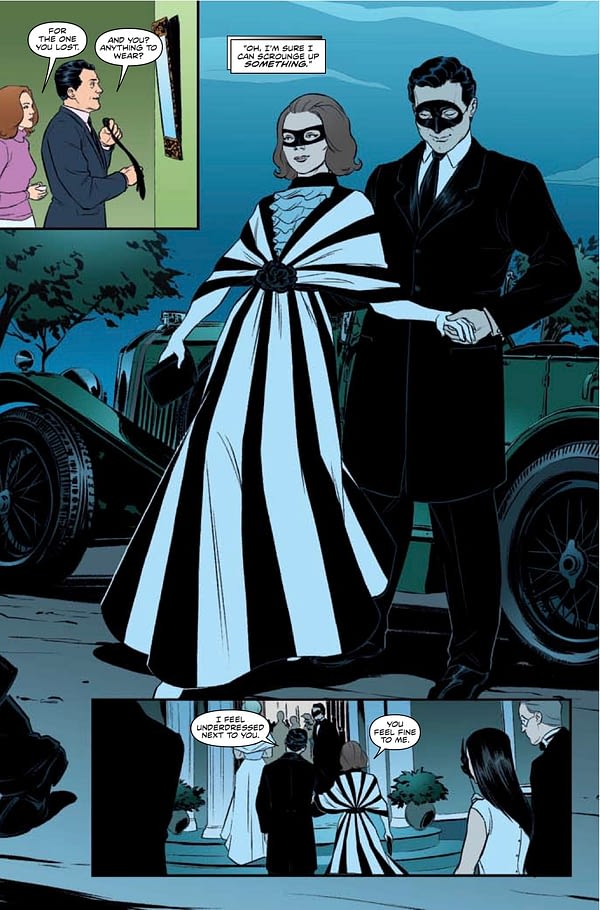 PAGE 2
Caleb: The tie Steed "lost" is the one they used as a fuse in the gas tank to blow up a motorcycle last issue. Emma's dress is based on the actual one worn by Tatiana du Plessix Liberman in 1966. We used it for two reasons. The first is that it's awesome, and the second…I'll get into that a little later. You'll notice all the men at the ball wear bow ties, but Steed wears the tie that Emma gave him.
Yasmin: I completed Page 2 after some feedback on the first page, again concerning Steed and Peels likenesses – which I feel I'm still trying to determine even now while I work on issue #5.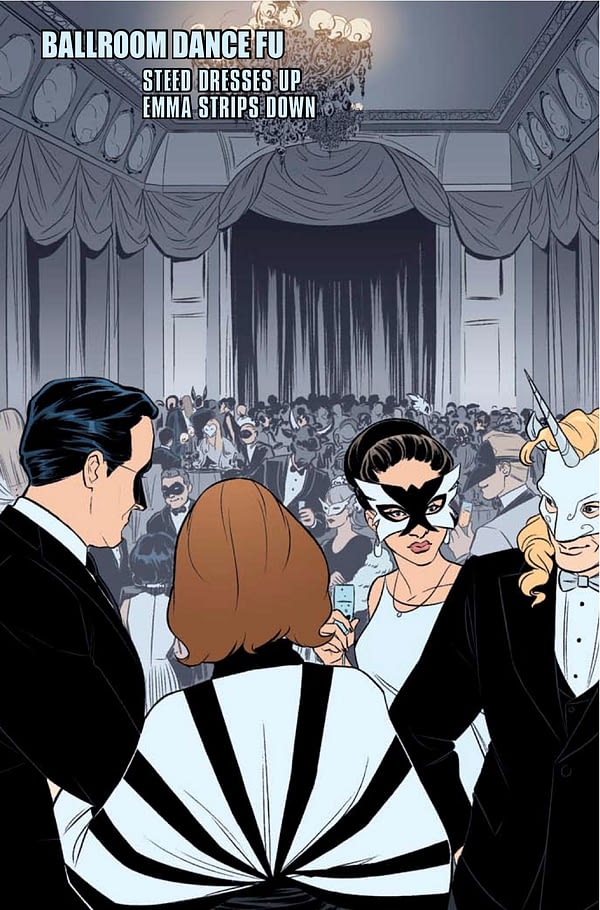 PAGE 3
Caleb: My first version of the subtitles was "Steed Misses His Hat; Emma Doesn't Miss a Note," because I was going to do a bit where Steed instinctively tries to use his hat in a fight, but of course he hasn't worn it to the ball. When I got to that scene it just didn't feel right, so I nixed it and the subtitle had to change. This final version's much sexier anyway. Emma does still play the tuba later, however.
Yasmin: My favourite part of this page was the chandelier because I had so much fun inking it. I'm pretty sure you can't even see it in the final version of the book, but that's alright – I instagrammed it for future generations.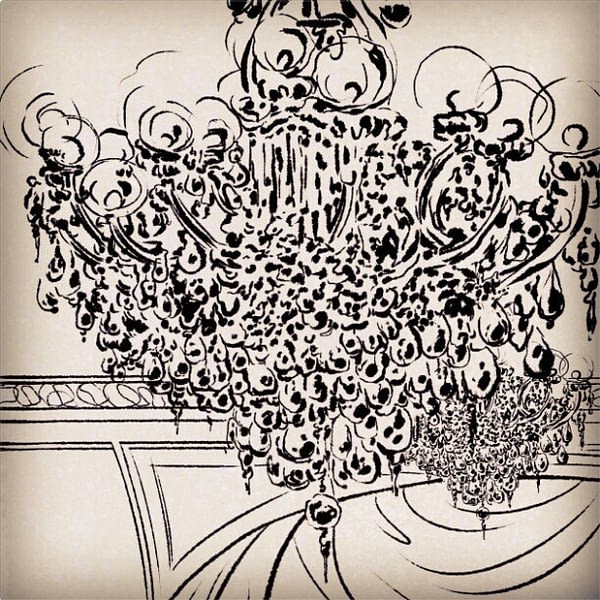 PAGE 4
Caleb: No Avengers story is complete without champagne. Though you can't tell it in the glass, the champagne is vintage Taittinger, the actual champagne served at the Black and White Ball. Steed's "Just like mother used to make" is one of my favorite lines of his in the issue. Harold and Alicia are the only characters who don't wear masks at the ball. This is a little tribute to photographer Gordon Parks (who would later go on to direct Shaft), who went maskless to the original event because "people wouldn't know that I was black. After all, I was there to make it a real black-and-white ball."
Yasmin: Alicia! Alicia is so classy and beautiful. I spent a little too much time deciding on what dress to put her in.
Caleb: The dress is perfect. Yasmin's excellent sartorial/couture instinct is part of why she's so perfect for this book. Costuming always played a major visual role in the series. The unnamed blonde woman on this page was not there when Yasmin first drew it, but then in a script for a later issue I mentioned her having been at the ball, though we'd never seen her, so we decided to go back in and plant her here. Just enough time, I'd say.
Yasmin: Caleb e-mailed me about this new addition to the panel quite literally as I was drawing it. Fortunately, because of the way I had laid out the panel already, it didn't require a lot of changes and I could just fit her in between Alicia and Steed. I don't really have any WIP shots of my work, mostly because since I work digitally, I have the benefit of going quite quickly into inks without very detailed sketches. My thumbnails and sketches are mostly just scribbles!
PAGE 5
Caleb: Cushing's theory of "swans" is a true-to-life Capote-ism. His personal bevy included Lee Radziwill (sister of Jackie O) and Babe Paley and Slim Keith, who inspired his unfinished novel Answered Prayers.
Yasmin: I got a good laugh out of the way Caleb described Cushing on this page. "Small in stature, big in personality." Small in everything, I decided, including his mustache.
PAGE 6
Caleb: Steed's second line here is my other favorite.
PAGE 7
Caleb: Enter our villain, The Dirigent (another word for conductor). We only saw him in silhouette in our previous arc, and thanks to his full face mask, we never see what he looks like in this issue, either. Not only were butoh dancers perfect for this issue because of the way they paint themselves white, but also because Butoh was part of Japan's cultural response to having lost World War II at the tip of an atom bomb, which made them a good thematic fit in the wake of our previous nuclear arc. Also, Butoh really came of age in the 60s, when our book takes place.
PAGE 8
Caleb: If you think the dancers here are portrayed in strange or unrealistic ways, you should watch a couple actual Butoh performance videos. If anything, I think we toned it down a little.
Yasmin: I'm not lying when I say I agonized over how to properly draw the Butoh dancers. They're incredibly uncomfortable to watch and completely fascinating in motion. It was difficult trying to capture it on the page without making it look ridiculous and distracting to the reader.
PAGE 9
Caleb: It was colorist Ron Riley who chose the blue hue of light that the Dirigent used in his brainwashing efforts in #2, and we've returned to it here.
Yasmin: I made a very conscious decision to dress the orchestra in all-white in an effort to mirror the Dirigent's Butoh dancers. I figured a guy in all-black would make sure his entourage would be in all-white to make him look good.
PAGE 12
Caleb: The last panel here is my personal favorite of the entire issue. The script reads, in part: "Her face seems suggestive precisely because she keeps it carefully free of any expression." And Yasmin nailed it. Facial expressions and body language are crucial in a book like ours, where as much of the character interaction is unspoken as spoken. The first thing I wrote with John and Emma in it was a very short script for potential artists to use for try-outs during the series' "pre-production" phase. The idea was to create a two-page scene that required an artist to draw action, facial expressions, different types of wardrobe, establishing shots, perspective and a variety of backgrounds. I knew I'd end up doing something similar in the actual series, and here it is!(That sample script also ended with them walking into a—you guessed it—costume ball!)
Yasmin: By this page, I had done my research and watched a lot of Steed and Peel (as much as I could get my hands on). The TV show really did have two whole conversations going on the entire time.
PAGE 13
Caleb: Another important aspect of the show's mythology: to get Emma into her "Emmapeeler" catsuit as often as possible. Or some approximate variation, like the purloined costume in #0 and the radiation suit in #1. And now we get to the other reason we chose Emma's dress: it would conceal her "underthings." Their arm-in-arm walk here as they return to the ball is meant to reflect the way they originally entered it. Basically, Emma's ready for high society no matter what she's wearing.
PAGE 17
Caleb: We open with a homage to the original series' episode "The Murder Market," which contains a delightful scene where Mrs. Peel practices her tuba at Steed's apartment while he plays indoor golf. One of my favorites from the entire show. "She's still in there, you know…"
PAGE 18
Caleb: This page is meant to be a visual echo of Page 10. At one point I considered giving Steed the line, "If it's not one kind of dancing, it's another." Too cheesy.
PAGE 19
Caleb: The bit about the anechoic chamber is a true story from the life of composer John Cage. He's best-known for 4'33", in which the performer is present for four minutes and 33 seconds, but makes no deliberate sound. The "composition" is the environmental noise created by the audience. He visited an anechoic chamber at Harvard in 1951 and, "I heard two sounds, one high and one low. When I described them to the engineer in charge, he informed me that the high one was my nervous system in operation, the low one my blood in circulation…Until I die there will be sounds. And they will continue following my death." This "impossibility of silence" is what led to 4'33". As soon as I heard that story, of course, my mind went immediately to brainwashing, as any good writer would.
Yasmin: On a less educational note, I didn't realize until starting page 19 that I had been drawing the Dirigent wearing his tuxedo coat open, although Caleb had written that he should open his coat here to reveal the speaker attached to his shirt. Now I'm here to confess to this awful crime. The Dirigent must have been sweating under all those layers.
Caleb: Ha!
PAGE 20
Caleb: And here we have an example of the slipperiness of time in comics. Steed and Peel had visited the gun case and retrieved themselves weapons between panels 2 and 3 of Page 12.
PAGE 21
Caleb: For those of you who aren't up-to-date on your archaic slang, to "make time" was an early-to-mid 20th century term for courting or flirting with someone. That line was actually the first line of the issue I wrote, right before, "Mrs. Peel, we're invited." Basically, I wrote the last line, then the first, then filled in everything between. On this issue, at least…I don't exactly have a standard method. I learned not to worry about writing chronologically from my former boss and mentor, screenwriter/director Zach Helm. It changed my writing forever: now I write things as they come to me, instead of as they happen. If I get stuck somewhere, I just skip ahead and work backward through the sticky spot. Or skip ahead and just keep going and let my subconscious solve the problem while I write something else.
PAGE 22
Caleb: That's the Hellfire Club crest on the satellite.
Yasmin: We're doomed.
Caleb: I have a mini-checklist I run through for each arc: champagne, kinkiness, eccentric supporting characters/villain, humor, and horror. I think we managed to at least touched on all of those this issue!
Enjoyed this article? Share it!