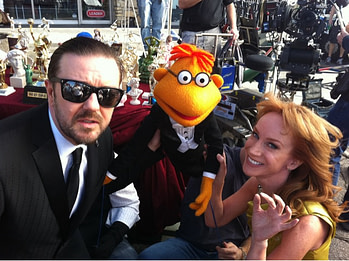 UDPATE AT END OF POST.
Ricky Gervais seems set to join The Muppets.
I kind of knew about this already and dropped a hint before, referring to:
a UK comedy star in a lead role
but wasn't able to confirm that it would definitely be Gervais. Seems that The Hollywood Reporter have done my job for me though, telling us:
Comedian Ricky Gervais is in negotiations to star in The Muppets sequel as the Disney movie's human lead character… with his stature being compared to the role played by Jason Segel in the 2011 movie. But the nature of Gervais' character is unknown because the script is being kept secret.
Really secret. I've tried every trick I know to find out more and so far, not much at all. Is there anybody out there who can help me?
Gervais did film a cameo for the last Muppet movie, as himself. It's in the deleted scenes so I'd be very surprised if they don't make some kind of post-modern joke about it in the new movie. The image at the head of the post comes from the filming of that scene.
The Muppets 2, which is not going to be called The Muppets 2, starts filming in London and at Pinewood Studios in the new year.
UPDATE: Gervais himself has now tweeted word that he's signed on.
I have just signed up to play the lead in the next Muppet Movie. I have the biggest trailer but Kermit will spend some time in my sink.

— Ricky Gervais (@rickygervais) December 19, 2012