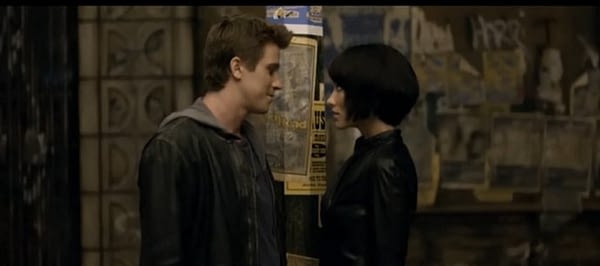 Joseph Kosinski has been doing very early press for his sci-fi film Oblivion. This has meant, as you might expect, questioning about the in-development Tron 3, or whatever it ends up being called. The nerdosphere is all about the future, and the franchises, you may have noticed, and the further into the future, the better.
The following snippets come from Collider. I've stitched them together because they paint a pretty clear picture this way:
Obviously we hinted some things at the end of Legacy, it's kind of there for people to see what that potential is. So we just want to make sure that we have a script that delivers on that promise on an epic scale.

We do have the idea that feels big and really blows the doors off this franchise.  It's hinted at promises of something for two movies now, for thirty years, so it's time to deliver on that.

The goal would not be to simply re-use.  We're not going to re-use the assets from Legacy, that's no fun.  If we're going to do to it we're going to reinvent all over again and it's going to be a whole new generation for reasons that are very story-driven.
I don't know why Kosinski is being so coy, but it's pretty clear to me that the plan for Tron 3 is to bring the virtual characters into our world.
Olivia Wilde has teased the notion before – I can't find a link to the quote I'm thinking of which makes me think it was back at the Tron Legacy junket, in fact, but I can certainly recall some comments from her about Quorra adapting to life in our world.
There's nothing else that Kosinski can be talking about here and I'm sure that it's his plan for the virtual world to spill over into ours.
He also seems to be suggesting it will happen on an "epic" scale, but I'm sure there will be lots of Splash-alike character beats too. "What is this thing you call… kissing?"
Oblivion is along next April. Tron 3 is stil pending, but it seems like Disney are trying to lock everything down now so expect to keep hearing more and more. My money is on Cillian Murphy playing the big bad.
*One interview about it over at MTV refers to The Omega Man as Mega Man, and that misquote has spread across the web to my puzzlement.
Enjoyed this article? Share it!