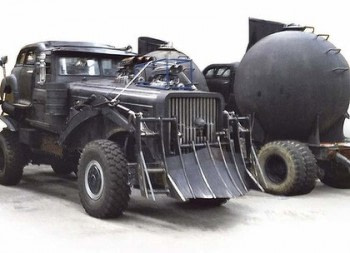 Though production started on July 9th, Kennedy Miller Mitchell productions have chosen today to send me the official plot blurb and expanded cast list, announcing "the start of production." Better late then never.
Let's take this thing in chunks, shall we?
Principal photography began 9 July on the dystopian action adventure Mad Max: Fury Road, a Kennedy Miller Mitchell production written and directed by Mad Max creator and Academy Award® winner George Miller ("Happy Feet"). The film will be presented by Warner Bros. Pictures in association with Village Roadshow Pictures. It will be distributed worldwide by Warner Bros. Pictures, a Warner Bros. Entertainment Company, and in select territories by Village Roadshow Pictures.
That's the boring stuff out of the way first.
Mad Max: Fury Road—the fourth in the franchise's history—stars Tom Hardy ("The Dark Knight Rises") in the title role of Max Rockatansky, alongside Oscar® winner Charlize Theron ("Monster", "Prometheus") as Imperator Furiosa.
Is Imperator her first name or her title? An Imperator was pretty much a Commander in the Roman Empire, says… um… Wikipedia.
According to Miller, "Mad Max is caught up with a group of people fleeing across the Wasteland in a War Rig driven by the Imperator Furiosa. This movie is an account of the Road War which follows. It is based on the Word Burgers of the History Men and eyewitness accounts of those who survived."
Word Burgers. Yes! Supersize me.
Mad Max: Fury Road also stars Nicholas Hoult ("X-Men: First Class") as Nux; Hugh Keays-Byrne ("Mad Max", "Sleeping Beauty") as Immortan Joe;
Sorry to intterupt mid-flow but I should point out that Keays-Byrne played Toecutter in the first Mad Max.
and Nathan Jones ("Conan the Barbarian") as Rictus Erectus.
Rictus Erectus? Nice. Too much viagra, I suppose.
Collectively known as The Wives, Zoë Kravitz ("X-Men: First Class") plays Toast, Riley Keough ("Magic Mike") is Capable, and Rosie Huntington-Whiteley ("Transformers: Dark of the Moon") is Splendid. They are joined by supermodel Abbey Lee Kershaw as The Dag and Courtney Eaton as Fragile, both of whom are making their big screen debuts. Also featured in the movie are Josh Helman as Slit, Jennifer Hagan as Miss Giddy, and singer/songwriter/performer iOTA as Coma-Doof Warrior.
Just when I thought it couldn't get better than Word Burgers, Miller gives us a character called Toast and then casts iOTA as Coma-Doof Warrior. Now you see why I love him so much?
The cast is rounded out by well-known Australian actors John Howard, Richard Carter, supermodel Megan Gale, Angus Sampson, Joy Smithers, Gillian Jones, Melissa Jaffer and Melita Jurisic.
God only knows what their characters are called.
Miller is directing the film from a screenplay he wrote with Brendan McCarthy and Nico Lathouris. Miller also produces the film, along with longtime producing partner, Oscar® nominee Doug Mitchell ("Babe", "Happy Feet"), and P.J. Voeten. Iain Smith, Graham Burke and Bruce Berman serve as executive producers.
Yes, that Brendan McCarthy. Nico Lathouris, by the way, was the car mechanic in the first Mad Max film. This script has been around a long time, and I believe that Miller is also still using storyboards he developed with McCarthy many years ago.
The behind-the-scenes creative team includes Academy Award®-winning director of photography John Seale ("The English Patient"); action unit director and stunt coordinator Guy Norris ("Australia"); editor Margaret Sixel ("Happy Feet"); production designer Colin Gibson ("Babe"); Oscar®-winning costume designer Jenny Beavan ("A Room with a View"); and makeup designer Lesley Vanderwalt ("Knowing").
They all know what they're doing. I'm particularly glad to see Seale's name there. His work with Peter Weir in particular was brilliant.
Shooting on Mad Max: Fury Road is taking place in Africa with the support of the Australian government. Originally slated to be shot in Broken Hill, New South Wales, Australia, the production was forced to relocate due to severe flooding, rendering the Australian landscape unsuitable for the film. The rain turned the area into an oasis instead of the post-apocalyptic terrain that is the setting for Max's world.
So thank you Africa and the Australian government.
No mention of this being two or three films, as per various reports. It looks like Miller might be shooting just enough for a single installment this time around after all. That's a bit of a come down, I suppose.
Still – one new film with somebody called Toast in it is better than none. Anyone for Word Burgers?