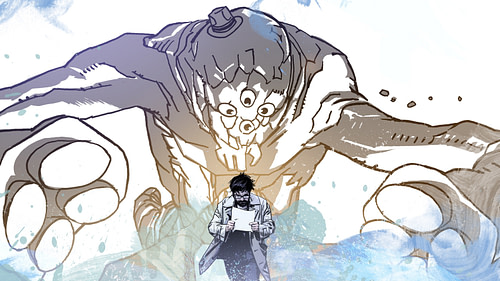 The latest half comics-half animation-half social network inspired narrative is back (in three halves) for its third episode.
The Random Adventures of Brandon Generator by Edgar Wright, Tommy Lee Edwards and Julian Barratt is now live here. As ever, it's there to advertise what the sad-sack web browser Internet Explorer 9 can do, but it works fine on Firefox and Chrome.
The latest episode reveals the introduction of a new character, a crowd-sourced leading lady in the form of University of Sunderland student, 19 year old Ellie Mortimer. Mortimer's casting as Brandon's mystery girl follows the cliff hanger at the end of the second episode. The audience was invited to suggest Brandon's mystery girl by uploading a photo of themselves for the chance to be illustrated by Tommy Lee Edwards and immortalised into the adventure.
Episode 3 of the series, narrated by Julian Barratt (The Mighty Boosh) with music by David Holmes' new project 'Unloved' (a collaboration between David Holmes, Keefus Green and Jade Vincent) sees Brandon come face to face with a ghastly monster he believed lived only in his dreams and even more frightening, a close encounter with his mystery girl. Ultimately our hero finds himself back at his flat only to find he is already there, but is it our hero or a dark anti-hero?
So there's that. On the 28th if June, Tommy Lee Edwards and Edgar Wright will be running a Q&A at 10am PT, 1pm ET, 6pm Brit time…