It is considered one of the most influential modern day superhero comic books. The Authority by Warren Ellis, Bryan Hitch, Mark Millar, Frank Quitely and more launched all four creators to become the superstars they are today. It was a massive hit for WildStorm even though, when bought by DC Comics, it was repeatedly neutered by Paul Levitz.
Ellis and Hitch's style launched widescreen comics and decompressed storytelling into the lexicon of superhero comics. Mark Millar also perfected his "shock jock" method of writing that would serve him so well at Marvel and Millarworld.
It gave us our first gay superhero couple, our first gay superhero kiss, our first gay superhero wedding and our first gay superhero adoption.
Well, Warren Ellis, Bryan Hitch, Mark Millar, Frank Quitely and friends' work on The Authority is now available on comiXology for 99 cents. It's a fantastic deal for such a landmark and influential superhero comic. And how is it being marketed?
"The Elite Inspired by"
Ah yes, because theres a Superman Vs The Elite DVD/Blu Ray out, and the Elite were The Authority knockoffs, created to make a point by Joe Kelly over what he saw as the unfortunate influence of The Authority.
How the mighty have fallen.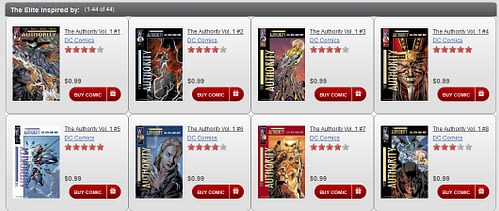 Enjoyed this article? Share it!