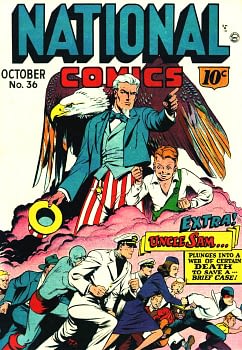 It's pretty fun to see DC bringing back the classic Quality Comics title National Comics this July, about 72 years after it originally debuted.  Of course, Kid Eternity is also a Quality character (and we've seen Quality-related titles The Ray and Blackhawks in the New 52 — and even a Plastic Man reference, I think), DC acquired the line in the mid-1950s and has used numerous of the characters and titles since then.  And of course you know that I never miss a chance to mention golden age and silver age material in trending topics  (and fortunately, comics news rarely leaves me lacking the opportunity for long), so I'm hoping that National Comics will keep the Quality connection going with subsequent issues (Uncle Sam, anyone?).
Most-Read Comic Stories Today:
DC Brings Back Kid Eternity For The New 52 – So What Will Get Canned?
Jeff Lemire and Cully Hamner will create Eternity, which appears to be similar to Kid Eternity. They describe it;
When The French Cosplay As X-Men And Avengers 
Due to legal issues, the French shop Comics Zone in Lyon that specialises in American comics held its Avengers Vs X-Men party last Saturday .
When Jim Lee Rode A Camel And Alan Moore Wrote Gen 13 | Bleeding Cool Comic Book, Movies and TV News and Rumors
Just found some pictures from a New Years party in maybe 1997. JimLee is wearing a white Tuxedo, a bit tipsy, riding atop a camel…
Most-Read TV/Film Stories Today:
Are Disney Actually, Really Working On An Animated Marvel Movie? | Bleeding Cool Comic Book, Movies and TV News and Rumors
Ever since Marvel became part of the Mickey Mouse Empire, we've regularly heard rumours that the studio would bring their new, four-coloured characters over to The Magic Kingdom and realise some kind of crossover.
Is This What The Ninja Turtles Look Like Now? And Is Kid Cudi Going To Play One Of Them? | Bleeding Cool Comic Book, Movies and TV News and Rumors
I have no real idea about Kid Cudi. I've heard of him, I have some idea of what he looks like, and I know that he's a hip hop artist with some acting experience.
More On Ben Kingsley's Iron Man 3 Villain | Bleeding Cool Comic Book, Movies and TV News and Rumors
There's often a bit of pushme and pullyou between the trades on a breaking story, oftentimes because agents and studios are using the outlets as a public arena for negotiations (see: the ongoing Gary Ross/Hunger Gamers story).
Enjoyed this article? Share it!