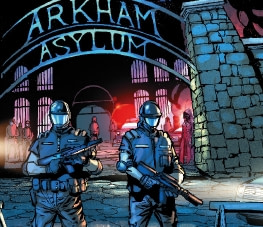 Siike Donnelly is reporting from Megacon for Bleeding Cool. Excitedly he gives us news of this year's Free Comic Book Day offering from DC Comics. We know it's by Geoff Johns, we know there's a Jim Lee four page foldout, but little else.
Well, it appears that the free comic will focus on Pandora, the strange hooded woman from the end of Flashpoint and the first issues of all the New 52.
We will see the three universes, the DCU, the Vertigo DCU and Wildstorm, from her point of view. And both Kenneth Rocafort and Gene Ha will draw strips for the comic.
This and more, expressed in Siike's msot excitable style, will appear in his Megacon report, later today.