As work on The Dark Knight Rises continues and more and more people get involved with what must amount to Warner Bros. biggest ongoing project, the trickle of behind-the-scenes information into the ear holes of Bleeding Cool has become faster and heavier.
One well tried and certainly trusted individual has handed us a few puzzle pieces, some of which don't yet make sense. But during our conversation, they also confirmed, without any doubt, that a certain, highly anticipated plot point from Bat-lore is going to feature in the new film's storyline.
It's hardly a spoiler, because it seems to be what Bane was built to do, but you may want to click away now.
Or not.
So, we've been told – amongst a few other things that we hope to make sense of and share in the near future – that The Dark Knight Rises gives Bane the opportunity to break Batman's back.
And he grabs that opportunity with both hands. So to speak. And I'm guessing he'll also make use of his knee.
We weren't surprised to have this confirmed for us, but thought we'd settle the score for the readers too.
Our source cracked wise about the various "rumours" surrounding Bane in the film, expressing some amount of disbelief that people thought the back-breaking might, somehow, not be featured. "Rumour: Joker to smile in new Dark Knight movie."
We did ask, specifically if the film was going to be derived from the Knightfall comics but, as it was pointed out, there's already a prologue and trailer full of material that doesn't originate in those strips, so this isn't an adaptation at all. Seems like Nolan has just magpied the shiniest bit…
Or bits…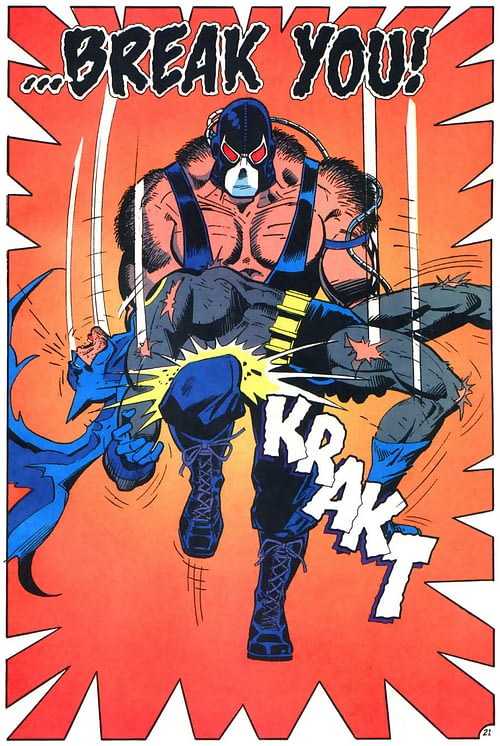 (Last Updated
December 19, 2011 8:05 pm
)
Related Posts
None found