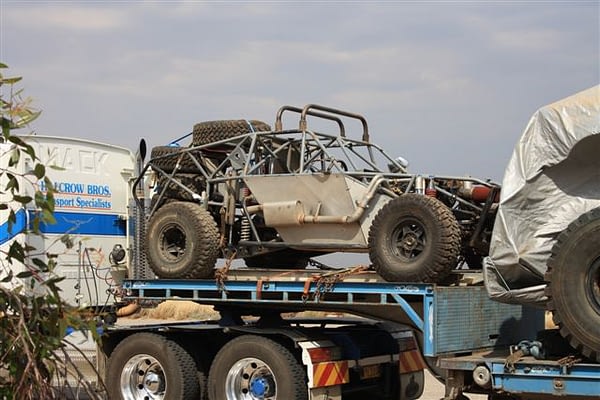 As we understood it, George Miller was getting ready to shoot two Mad Max films, Fury Road and Furiosa. The first planned shoot dates had come and gone, thanks to unpredictable Australian weather and now, production is set for next April, relocated from Australia to Namibia (above, you can see one of the vehicles in transit).
But reading a new profile of Miller in Australian Financial Review, it seems that Miller isn't readying two films. Indeed, depending on how you determine "readying", he's working on either just the one, or three.
Set for production next year, it seems, is Fury Road. Furiosa has been scripted and storyboarded, and now, Miller has gotten deep into the writing of a third part. Here are the key quotes:
Fury Road was to shoot in Broken Hill in September last year, then April 2011, but heavy rain had turned the desert into a flower garden and the water table stubbornly refused to drop. The film will now shoot in Namibia from April with additional filming and post-production back in Australia.

Miller has, in fact, written a whole new trilogy. "We started with [Fury Road], but we then started to do a second story and a third," he says. "We've written the script for the second and almost finished the third. We never intended to, they were part of the exploration of the characters."
Parts one and two were planned a very long time ago, in fact. Indeed, the first drafts of their storyboards were completed around the turn of the millennium. Bleeding Cool has been able to confirm that Miller's current plans are very close to his original ones, in terms of scenes, dialogue, set pieces and so on – which is exciting, because those old storyboards were electrifying.
Away from Max Rockatansky, closer to the Happy Feet end of the spectrum, Miller is also planning another cartoon:
[Financial and logistical] headaches have "diluted" Miller and Mitchell's "creative overview of other animated projects", Doug Mitchell says, including what Miller refers to as "the most ambitious thing we've done", a new animated bear film, Fur Brigade. That has meant a rethink of the Omnilab joint venture.
Everything there hinges, it seems, on some restructuring of Miller's Dr. D production outfit. Some recent reports seem to be blaming Happy Feet 2's moderate-but-not-stellar box office for the problems; the AFR story dates from before the release of the film, and finds Mad Max's rainy delays to blame.
The full profile makes for a great read, and gives due space to the problems Miller and co. are navigating. I should not reprise it all here, but I do want to say, I'm sad to hear Dr. D is having such a hard time, so many jobs have been lost, and that Miller's creative enterprise has been left in the balance.
Enjoyed this article? Share it!