This week the shelves are full of comics. DC have large dump of the third issues of their relaunch titles, Marvel give you Xbooks, Ultimate and Fantastic Four comics aplenty.
Next week though, it's a relative barren desert. None of the relaunch titles, Marvel have only got one comic with Wolverine in it (and it's Wolverine), and even Avatar, publishers of Bleeding Cool?
Bupkiss.
So what will you spend your money on? Trade paperbacks and hardcover collections aside (and I do have my eye on that Kieron Gillen Thor Omnibus), here's a few for your consideration…
Wasteland #32 by Antony Johnston and Brett Weldele from Oni. It's the last issue before January's revamp, as the book goes monthly from #33, and it's a standalone issue. A perfect opportunity to sample a rather wonderful longform apocalyptic comic book that you may have missed out on – recommended for those who like The Walking Dead but wish it had just a touch of a cerebral Mad Max.
Dynamite publishes the Dynamite Art Of Alex Ross, a collection of all of Alex Ross' covers for the publisher over the years.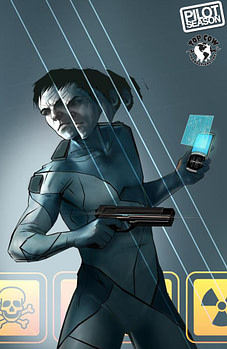 And for those who can't afford that impressive tome, Dynamite also have Flash Gordon: Zeitgeist #1 by Alex Ross, Eric Trautmann and Daniel Indro, for one meagre dollar.
They also have a third issue of the adaption of A Game Of Thrones which has done rather  agood job of pushing its way into all sorts of mainstream stores.
Angel And Faith #4 from Dark Horse Comics. The buddy cop comic you never asked for as Slayer gone bad gone good again Faith teams with vampire gone bad gone good gone bad gone good gone bad gone good Angel. I almost lost count there, but they make a fun couple and Joss Whedon keeps sticking his oar in.
Image/Top Cow's Pilot Season gives us Theory Of Everything #1, about a scientist who finds his theoretical work is being used in bank heists, by Dan Casey and the artist of my own graphic novella, The Flying Friar, Thomas Nachlik.
It staggers me that Savage Dragon is going at issue 176, a real time superhero comic book that can be anything and everything its creator, Erik Larsen wants it to be, satire, broad action adventure, superhero, slapstick, existential treatise on the nature of reality, you name it. Oh and they replaced the lead character with young black kid ages before Ultimate Spider-Man. Next week's issue? He's facing Overlord. Plus Avengylene #5, Darkness #95, Green Wake #7, Bomb Queen VIII #1, Haunt #19, Infinite Horizon #6, Hack Slash Annual 2001, Near Death #3, Shinku #3, Skullkickers #12, Super Dinosaur #6, there's a lot from Image to choose from, and a good opportunity to pick something you've heard about, on this site, say, but have never read.
IDW are continuing Jack Avarice Is The Courier #5, Chris Madden's action adventure comic book nears its conclusion. This may be the opportunity to pick up issues 1 to 4 in the back issue bins when you're there. If your shop has back issue bins.
Archie #627 may take most of the press next week as Archie meets KISS for the first time in a rather bizarre crossover comic.
And Archaia bring us a much anticipated new issue of Mouse Guard, Black Axe #3.
DC do give you a few charming possibilities, Batman Odyssey #2 by Neal Adams which if you haven't read, you must try at least one issue, Brian Azzarello and Eduardo Risso continuing the second issue of their new comic Spaceman, and Nick Spencer brings back his Marvel exclusive exception, Thunder Agents with a new DC issue 1.
And Marvel do alos have a few books of note, the first Avengers Origin comic, featuring Thor, FF continuing in the wake of Fantastic Four #600 and the second issue of Uncanny X-Men after its own relaunch.
But for next week, if you find yourself at the till with less to buy… why not turn back around and see what else you can find?