This banner for Brad Bird's Mission: Impossible – Ghost Protocol will probably have a strong effect on those of you scared of heights. Click through to get it at full size.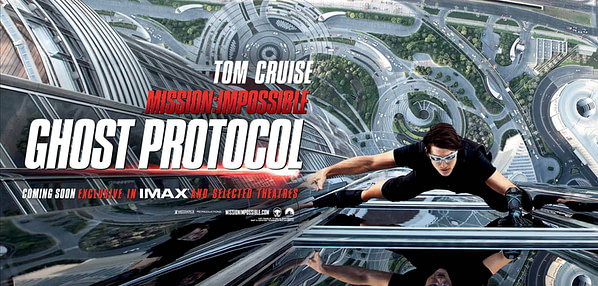 Personally, I'm scared the other way round – I hate looking up. I hope Brad Bird has taken my particular queasiness into effect and included some dizzying shots looking up the tower, as well as down.
It has just been announced that the film will get its world premiere as the opening night presentation of The Dubai International Film Festival – Dubai being where the big, central set-piece with the Burj Khalifa tower was filmed.
From the press release:
Dubai will reprise its own starring role in the film when Cruise, Bird and the film's co-stars take to the Festival's opening night red carpet alongside the city's leadership at the Madinat Jumeirah, The Arabian Resort – Dubai, home to the Dubai International Film Festival. Today's joint announcement from Paramount Pictures and the Festival celebrates the Mission: Impossible team's return to Dubai after extensive filming in the city, including shoots spanning its old town, downtown financial hub and offshore Palm island development.

With incredible stunt sequences featured throughout the movie, including the now iconic scene of Cruise scaling the world's tallest tower, Dubai's stunning Burj Khalifa, the movie also features Dubai footage shot in high-definition IMAX®, promising crystal-clear imagery, powerful audio and a fantastically immersive experience.

Framed for a terrorist bombing of the Kremlin, Impossible Missions Force operative Ethan Hunt (Cruise) and his entire remaining team (Renner, Patton, Pegg) are disavowed along with the rest of the agency when the president initiates "Ghost Protocol", essentially erasing the agency from existence. Left with no resources or backup, the team must find a way on their own to clear their names and prevent another attack. To complicate matters further, Ethan is forced to embark on this mission with a team of fellow IMF fugitives whose personal motives he does not fully know or trust.
I wish I could be there.