Ahead of the new trailer for Pixar's Brave, which will be released tomorrow, there's a preview piece and new image online.
The picture could be bigger and clearer, and I'll have to update if I find a better version, but here's what we have now: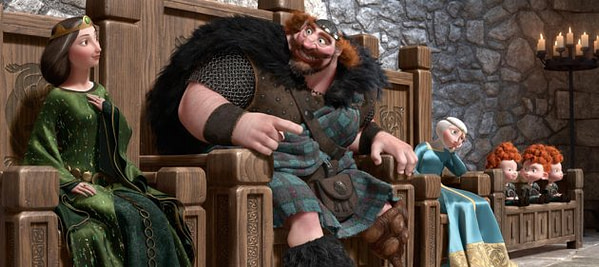 So that's Queen Elinor, King Fergus, Princess Merida and triplet Princes Harris, Hubert and Hamish. Merida is the story's protagonist, and her relationship with the Queen is a good part of the focus.
The preview piece, which is being distributed by the AP, discusses a couple of scenes from the trailer:
Merida's father tells of the 12-foot-tall beast with razor-sharp claws, a face scarred with a dead eye and "hide littered with the weapons of fallen warriors," that chomped off his leg while the rebellious Merida transverses a lush forest, ascends a mountain and lands a bull's eye at a tournament.
Other imagery teased in the new trailer includes Merida encountering mystical blue-hued wisps and the gnarly bear that took her father's leg.
Bring out on, Emeryville.
Thanks to Empire, we also have some good-look images at other characters too.
You can see those connected together at Empire, should you wish.
See you back here tomorrow for the trailer.