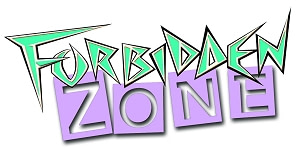 Very few live action films can lay claim to really, honestly feeling like an animation, but Richard Elfman and The Mystic Knights of Oingo Boingo's Forbidden Zone plays very much with the look and feel of a Max and Dave Fleischer cartoon. Think of, perhaps, Cab Calloway doing Minnie the Moocher for the Bettie Boop and Bimbo cartoon of the same name.
If you don't know the film, I recommend you check out this trailer before reading on.
If you want more, the whole film is easily available on DVD in the US
and the UK
, though the US disc appears to contain the film only in a "colorized" version. Elfman says he prefers it this way, but I'll stick with the black and white original, not least for the increased Fleischerness.
Forbidden Zone is a genuine cult film, surely thanks in no small part to the performance, music and songs of Danny Elfman, making his feature debut a good few years before Tim Burton arrived on the scene. There's no denying that some of the songs are absolute stormers, and Elfman's turn as the Devil is a true gem of a sequence.
Richard Elfman has been planning to direct a follow up for some time now, and has apparently finally started production on Forbidden Zone 2: Forbidden Galaxy. I don't know how deep into filming he really is, but cameras from the SyFy channel stopped by recently to get a look behind the scenes of one musical number. Elfman explains:
The Syfy Channel is doing a six-part reality series, Monster Man, featuring six horror/fantasy directors, documenting the actual behind-the-scenes fun and drama of a real-life Hollywood special-effects house as they create their film creatures.

The show is doing a segment on me and my upcoming Forbidden Zone sequel, Forbidden Galaxy. As part of the show, we just shot a FZ2 musical number with the sexy/grotesque creature, Princess Polly that Sota created for us.
This footage, which fans of the original film might be rather shocked by, was screened this weekend at the Morbido Film Fest in Mexico and has also been posted online.
Here it is – though I expect this footage is going to be cut together with other coverage. At least I really, really hope so.
[vimeo]http://vimeo.com/31292736[/vimeo]
If you made it to the end there, you'll see that the closing title card promised Forbidden Zone 2 would be ready for next year's Morbido fest.
It's looking to me rather like Forbidden Zone 2 is to Forbidden Zone as Repo Chick was to Repo Man, and that's not exactly encouraging. Still, I'm going on almost nothing, and I'll continue to hold out hope until I see the whole film.
Here's Elfman's blurb for the sequel, which certainly sounds in the spirit of part one, if not regularly identical:
Ma and Pa Kettle leave the depressed Dust Bowl with their kids, Stinky and Petunia, and drive their old jalopy down to Crenshaw in South-Central Los Angeles. Stinky is a hyper-active 12-year-old, played by a hyper-active 50-year-old; Petunia is a lumbering 13-year-old slut, played by an actress over 18 (hopefully); Ma is a corn-cob pipe-smoking inbred, and Pa is a craven, drunken carnival geek…with a bad disposition…even before his carnival job folded after the last dust storm. Together, they hope to find a better life in California.

Unfortunately, the little shack they rent has a basement connected to the Sixth Dimension – a bizarre underworld, ruled by a megalomaniac midget King, his jealous Queen, and an array of fantastical creatures, the most outrageous being The Princess Polly, a man-hungry gal with a to-die-for sexy, voluptuous body and an over-sized, grotesque, cartoon-like head. Her wild get ups and show-stopping musical numbers will give Gaga a run for the money!

Daughter-in-law Jenna Elfman will do a surrealistic aerial dance routine (did you know Jenna's a professional dancer?); I'll get brother Danny to reprise his Devil role, singing a knockout version of "St. James Infirmary Blues," and we'll shoot the "Crenshaw" scenes in Ghana.

Crenshaw will look like a cartoon version of 1910 Harlem, but everyone will be INCREDIBLE dancers and acrobats – from the Ghana National Dance Company. Of course that brilliant rascal, writer/director/actor Matthew Bright (aka "Toshiro Boloney" in the original Forbidden Zone) will reprise his role as Rene Henderson, as well as co-write the script.

Forbidden Zone 2 will have all the ABSURDITY and balls-out zaniness of Forbidden Zone 1 but with more technical tools and a greater budget to play with. I can guarantee that Forbidden Zone 2 will have unforgettable musical numbers.
A lot of that has been written in the future tense. Is there more to this film than the video above?
I'll be keeping an eye on Elfman's Buzzzine for more updates.