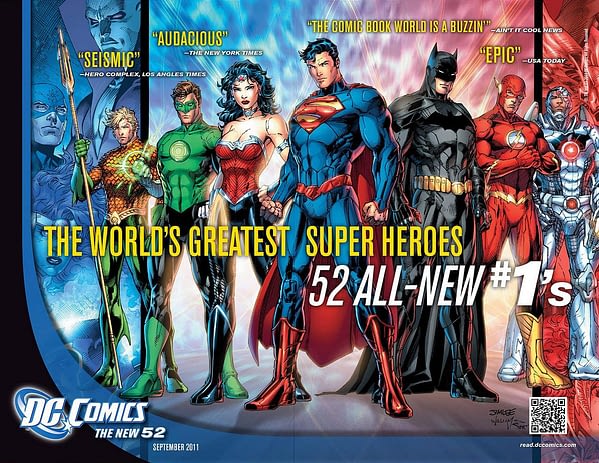 The following information will be most likely released tomorrow. But Bleeding Cool has an inside track.
For September 2011, the DC Relaunch, DC Comics had a 35.74% share of dollars spent on comics and graphic novels.
And Marvel had a 35.37% share.
It's a half point difference, but considering earlier in the year, DC were double figures points behind Marvel, it's a remarkable shift.
But the biggest change is in the actual number of comics and graphic novels sold. In that, DC had a massive 43.04% marketshare, over five points ahead of Marvel on 37.88%.
The only time DC has been ahead of Marvel in any form for six years was last December, when the Dark Knight comic saw DC take 33.07% in product marketshare to Marvel 's 32.28%, but Marvel kept dominance in dollar share with 39.9% to DC's 36.99%. And in subsequent months, DC's sales and revenue plummeted, until the middle of this year when they slowly started to regain ground.
In August, they were getting closer, Marvel's dollar marketshare was 37.34% against DC's 30.55% and Marvel's product marketshare was at 42.47% against DC's 34.84%.
And it's the product marketshare that's the biggest difference, DC turning a 7.5% lag into an over 5% lead in one month.
Now, one can look at September being an exceptional month for DC. But remember, it didn't include those 200,000 first day sales of Justice League #1, and did include Marvel's Ultimate relaunch including the news grabbing Ultimate Spider-Man #1. October's sales will include Justice League #2 and the second print sales from the first month, which may help to keep the numbers up.
DC's decision to charge $2.99 for the majority of its comics will be hampering it's ability to hold onto that dollar marketshare spot, and it's quite possible they may concede that to Marvel again in October. Unless of course retailers do up their orders for issue 2 as some are suggesting.
But whatever way you look at it, this is mission accomplished for DC's first month. Now, to find out what happens next.
Mickey and Donald comics can't come soon enough…
Enjoyed this article? Share it!