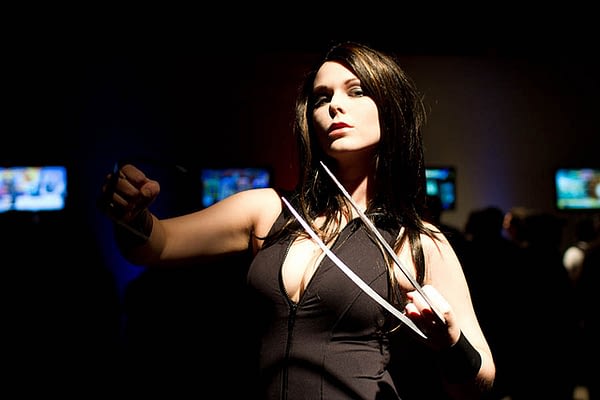 "Phoenix, Phoenix, can I get a photo?" a man in a suit a few years my senior asked Renee, one of the 4 cosplayers hired for the evening's festivities. She agrees to it, as the purpose of the cosplayers being present at said event was to pose with the attendees, not unlike a E3 "Booth Babe". This sort of thing was the norm. What's NOT part of the norm is expecting him to request that photo be of her choking him with his tie. One could argue that maybe the intent was supposed to be comical not sexual, until the man returned several minutes later, requesting a 2nd photo, this time of her choking him with her belt. Both times, the man's friends made sure that no one else was taking photos, going as far standing in front of me while I had my iphone (still took notes for the article though). "Always wanted to meet David Carradine" I said to Renee as the party of four left, which got a laugh out of her and kind of diffused an incredible awkward situation.
Erotic Ashpyxiation fetishes aside, Capcom attempted to put on a great show with a tiny venue over the the Eyebeam Art & Tech Center. An unconfirmed 2 thousand people from as far away as Boston came out to the small NYC west side location to play 3 unreleased Capcom titles: a digital-only arcade perfect port of Street Fighter 3: 3rd Strike, Ultimate Marvel vs Capcom 3 and Street Fighter X Tekken. The majority of the attendees were males ages 18-30, which comes as no surprise to anyone who's ever played a fighting game over PSN or Xbox live. The line wrapped about an entire city block, and was a formidable mass of gaming enthusiasts until the event ended. Assuming you made it inside, one had the chance to stand on more lines to play games at one of 21 different stations, not including the 4 Nintendo 3DSes running the handheld's port of Street Fighter IV, get free pizza ,t-shirts and posters, take photos of the cosplayers, and listen to music provided by a live DJ, which was a variety of hip-hop from the last 20 years. There was also a closed off section with 2 large couches where the best of the best were allowed to throw down in either Ultimate Marvel vs Capcom 3 or Street Fighter X Tekken and have their fights recorded for promotional use. After 20 minutes, the venue, which didn't exactly have the best ventilation, began to reek of pizza and Body Oder, which is what I imagine San Diego Comic Con smells like in general.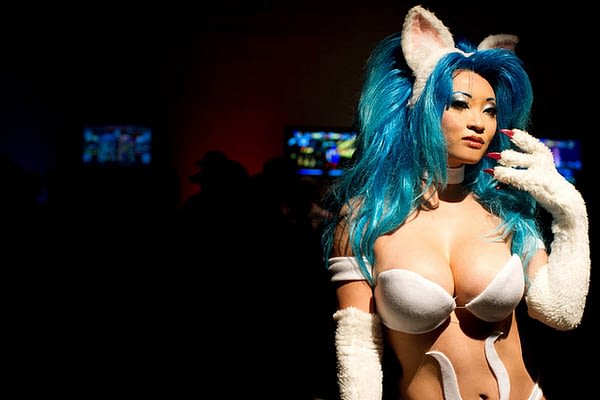 Gaining press access from Capcom is notoriously difficult if you're not a major press outlet, so instead of waiting 3-5 hours on line (I do have a day job after all), I sought out entry assistance from my friend, the ever-lovely and talented Marvel staffer Judy Stephens. Bleeding Cool readers should remember Judy as the "Pink-haired girl" who Rich tried getting Matt Fraction to write into "Fear Itself" post the announcement of the event at a Midtown Comics Press Event. She was also probably the only Marvel staffer who stayed at the Capcom party for more than 5 minutes, as Ryan Penagos, aka Agent M, tweeted he and his crew arrived and left quickly due to the size of the crowd. While Judy took photos of the event and the cosplayers (consisting of the stunning quartet of Yaya Han, alt-model Yuffie Bunny, and past winners of US round of the World Cosplay Summit India and and the previous mentioned Renee), I decided to see how many of the yet-to-be released games I could play.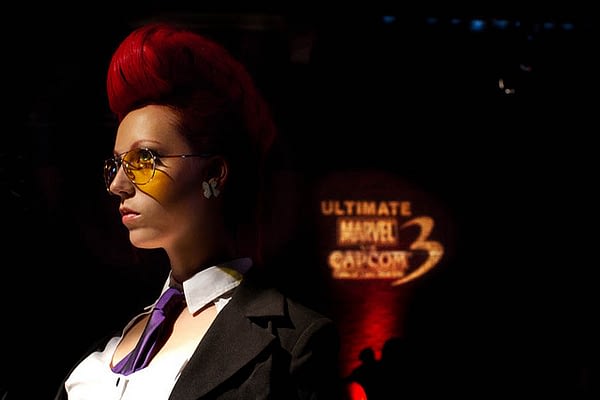 I managed to arrive fairly early at the event, so the lines for SF3: 3rd Strike and UMvC3 were fairly short. Taking advantage of this, I managed to play a round of each game, losing to my both my opponents in the process, because despite being a big fan of the genre, I have no business playing on a competitive level outside of Soul Calibur. As I said earlier, the XBLA/PSN port of 3rd Strike is identical to the arcade version, meaning anyone who perfected their game at the recently closed down Chinatown Fair were at home. Wanting to play as one of the newly added characters, I went with Hawkeye, teaming him with my usually choices of Wolverine and Devil May Cry's Dante. The purple archer did me well, but the revamped Wolverine could not help me seal the deal, as like I said above, I lost. Getting a shot of Street Fight X Tekken would have been nice, but the lines were insane, so I instead opted for going out to dinner with Judy and photographer Anna Fischer, who's photos grace this article, and look a ton better then the ones I shot from my iPhone. As we caught up over beer and diner cuisine, as Judy asked me what was up with the dozen or so shirts featuring Magneto with a curly mustache (said shirts of are available on brokentier.com, if you're interested, which meant that a portion of meal would consist of me explaining a meme to my friends. The evening ended with the 2 of us picking up beer for the exhausted cosplayers, as lord only know what they had to endure while we were away. Upon delivering I chatted up Yaya and Dia for a bit, who at one point asked why no one was playing as Felicia or X-23, the 2 characters they were cosplaying. I began to explain the concept of tiers and why certain characters were better to use than other. The girls were kind enough to smile and nod at me as I did, meaning the evening ended with me feeling as awkward as our friend with the choking fetish. Karma, they say, is a bitch like that.
Christopher Troy often pimps out toys for Forbidden Planet NYC, and can be harassed via twitter @Anarchris. Photos provided by Anna Fischer, who's work can be seen here.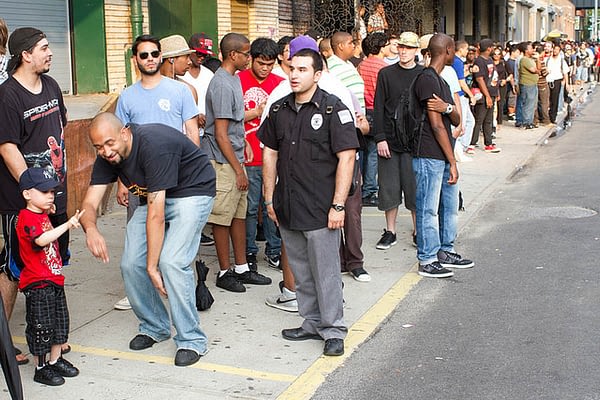 Enjoyed this article? Share it!