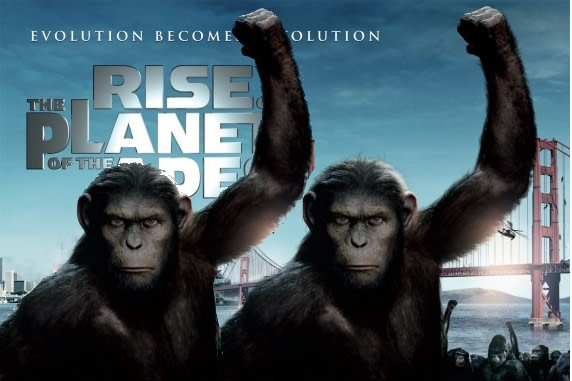 I'm fresh out of a long chat with Rupert Wyatt, director of Rise of the Planet of the Apes, and Dan Lemmon, that film's FX supervisor.
There's a lot to come from this discussion later, but I thought we'd start where the conversation did: on ideas for subsequent films.
"There's so much we could do… The ideas I've had are all sorts of things, ranging from Full Metal Jacket with apes… you could start this story again eight years from where we left off, the next generation of apes, those that have come from our protagonists, perhaps going in to a conflict with humans and showing real fear, in the same way as going into war for young soldiers in this day and age, telling their story. Or how apes are taking over cities, and being moved into human environments and having to interact with them and deal with things that are part of our culture and understand and evolve through them. Spies that are in the employ of the apes, working against humans and humans maybe existing underground, because that's a way they can avoid the virus, coming up above ground wearing gas masks, and maybe that's what dehumanises them."
Yep, he's been thinking about it. Actually thinking. They sound like interesting, provocative sci-fi ideas and I think it'd be a treat to see a film development…
Enjoyed this article? Share it!