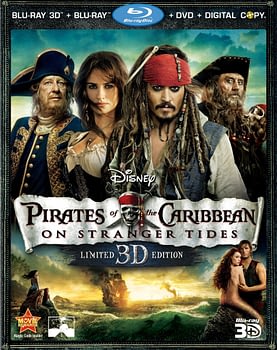 Disney aren't too shy about experimenting with release patterns. Just last year they became locked in a short lived stand-off with the UK cinema chains for having slashed the theatrical release window of Alice in Wonderland, scheduling the DVD and Blu-ray  release for just twelve weeks, and not the usual 16, from when the film hit cinemas.
Disney won that one, though apparently with some compromise, and it's interesting to note that they haven't gone on to make 12-week windows the norm.
Their next big idea is to stagger the release of Pirates of the Caribbean 4 on the various home entertainment formats. The press release says that the Blu-ray, combo pack and download will be made available on October 18th. According to Blu-Ray.com, the DVD-only launch date is almost a month later on November 15th.
So, between those dates, the only way to see the film on DVD will be to buy the combo pack which includes a 3D Blu-ray, a 2D Blu-ray, a DVD and a "digital copy."
I can follow the Disney strategy here. There will be those who resist the combo pack, for budgetary reasons as much as any other, I'd guess, and it would be unwise to dismiss them entirely.
The data Disney gather here could change release patterns for ever. Imagine if the combo pack gets a boost and the DVD-only release barely makes an impact: we could be seeing DVD-only SKUs hitting the skids within weeks.
Footnote: this is all in the US. International policy and plans may vary. I'll keep you up to date on that as details come in.
Enjoyed this article? Share it!