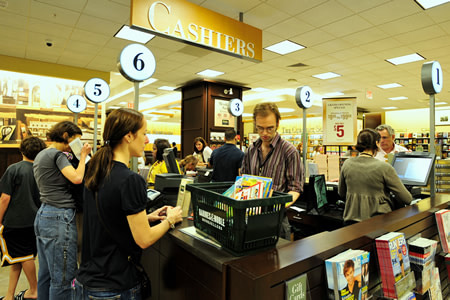 At the weekend, Bleeding Cool reported that Barnes & Noble were to expand their comic book offering significantly in June.
Here's the full internal memo, with contact details redacted. It states that Barnes & Noble will be offering more Marvel and DC single titles as well as independent comics, specifically naming certain Dynamite licensed titles. And that there will be new in store layouts to accomodate the new work.
Any Little Bleeders who frequent Barnes & Noble, do let us know how it rolls out from the 7th of June…

New Comics Category in Newsstand

Thor, Green Lantern and Captain America are coming to your store! We're excited to announce a new comics category.

In early June, we will begin carrying both Marvel and DC Comics titles that until now have only been available in comics specialty stores. We'll also have new assortments from such publishers as Dynamic Forces, so series like the popular Game of Thrones by George R. R. Martin, The Wheel of Time by Robert Jordan and Grave Sight by Charlaine Harris will come straight to your store. We will continue to search for new and exciting titles to add to this category to drive customer interest and sales.

To feature these new titles, we will be creating new layouts for all stores. With your help and support, we believe Newsstand sales will increase and Barnes & Noble will become the destination for comics lovers.