Mike Koehler is planning to build a life size AT-AT walker. Why? He says:
I have a great idea to make America great again. We can show our brain power, our manufacturing prowess, our organizational skills and our geek-fueled eye for detail… The AT-AT would become an instant monument of America's obsession with popular culture and our ability to be awesome.
And maybe it could march into countries full of oil and steal it or something?
Are David Bowie and Mick Jagger working on a comedy film about hard playing rock-n-roll agents in the 60s? Are they currently trying to cast famous comedians in the lead roles? Does Mick Jagger want to play a cameo role? Allegedly.
So Victoria Gotti has handpicked Lindsay Lohan to play her in the John Travolta-starring John Gotti biopic, to be shooting soon? Get some self respect, woman.
Jacki Chan's 100th film is to be 1911, a celebration of the revolution in its centenary year. The historical drama will be released in China and America on September 26th. Here's an image of Chan in the film, which he also wrote and directed.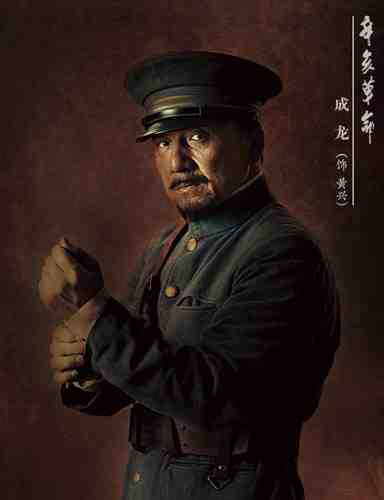 A new report on The Muppets lists some celebrity cameos, describes a couple of scenes, quotes some folk. The first scene mentioned will most likely have me in floods of tears.
Ice Cube is making a film called Chrome and Paint, about "car culture".  It is apparently based upon this recording of his:
[youtube]http://www.youtube.com/watch?v=O7HQ5lUhGEo[/youtube]
Neil Gaiman's interview with The Spacecast is pretty nifty, particularly for those wanting to hear more about his episode of Doctor Who.
Joseph Kosinski has started to open up about what Tron 3 might be about.
I think we will pick with where TRON: Legacy left off with Quorra in the real world and what does that mean and the possibilities it opens up for the next chapter. It's that relationship between the two of them that's the next step… Dillinger was a really important part of the first film and felt like an easy way to continue that storyline and thread to have his son in the new movie… it leaves a really nice springboard for some intertwining development for the next film.
Jessica Biel has been offered some role or other in the Total Recall do-over. I bet her costumes won't be as memorable as Sharon Stone's iconic exercise gear.
Captain America reshoots slash additional shooting are underway in LA.
Duncan Jones says that he's through with the promotional duties on Source Code and is off to LA to "start nailing down film number 3!"
Bloody Disgusting are saying that Chris Denham will be doing rewrites on Oren Peli's Area 51, some months after the film wrapped production. I'm thinking maybe they've got the wrong Area 51 in mind here. What about the video game movie Grant Morrison was working on?
Tobey Maguire will appear in Ang Lee's film of The Life of Pi as a journalist interviewing the lead character in framing sequences.
Looks like that before you can play the new Thor videogame, you'll have to sit through some cut-scene business like the clip below:
[youtube]http://www.youtube.com/watch?v=Kky6btiz2r0[/youtube]
Editing room rejigs rendered Liam Neeson's tiny role in The Hangover 2 unusable and needing to be reshot. He couldn't come back, so he's ended up on the cutting room floor and Nick Cassavetes has taken the part instead. Blu-ray extra?
Producer David Heyman is promising a warts-and-all documentary on the filming of The Deathly Hallows. Heyman has called the film, by director Morgan Matthews, both "real" and "really really funny."
An image that appeared to show a young, nude Elizabeth Taylor surfaced shortly after the actress' recent death. Rumour had it that Roddy McDowall was the photographer responsible. In fact, here it is now.
According to The Telegraph, this photo is "almost certainly not of Taylor – and may well have been taken when the actress would have been eight."
They add that the lady pictured was most likely one Lee Evans, "a minor Hollywood dancer".