SuckerWatch: Just one of the entries to the Bleeding Cool Sucker Punch original art competition to be judged by Batman And Robin's Frazer Irving. Possibly my favourite so far. Think you can do better and win a one-of-a-kind, money-can't-but lithograph of Sucker Punch concept art by Joel Chang, signed by director Zack Snyder as well as getting publicity for your stuff? Go for it.
SignWatch: Dean Haspiel will be signing his new Marvel Comic oneshot, Cyclops at Jim Hanley's Universe tomorrow from 6pm – 8pm with other friends of Bleeding Cool Jamal Igle and Cliff Chiang.
LicenseWatch: Warner Bros is to take control of DC's global licensed publishing according to Publisher's Weekly. This will include "children's formats such as storybooks, novelizations, chapter books, readers, coloring, activity and sticker books, how-to-draw titles, educational books, and partworks, as well as licensed formats for adults, such as script books, novels, and art books."
RespectfullyWeInformedYouOfThisEventAtAPreviousJunctureWatch: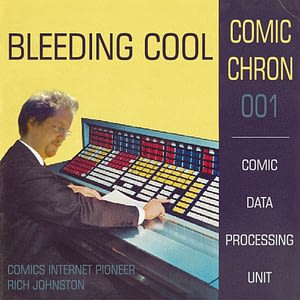 This is The Bleeding Cool ComicChron Robot speaking. I come for your women. But for now I merely collate comic-related bits and pieces online. One day I will rule. Until that day, read on.
Is Warner Bros. Planning a JUSTICE LEAGUE Movie for 2013?
Warner Bros. president Alan Horn is retiring this week after 12 years as the man with final say on every studio project. Jeff Robinov will succeed Horn, and the LA Times profile of the apparently awkward studio executive confirms what we knew about WB's tentpole strategy in a post-Harry Potter world: fill the void with DC Comics superheroes. The specifics of that superhero slate might c. The LA Times writes: "[Robinov is] aiming to release new Batman and Superman films in 2012 and Justice League, a teaming of DC's top heroes, in 2013."
'Blood Brothers' shines new light on Loki – USATODAY.com
An animated Web series is imbuing new life to Loki, the mercurial and malevolent god of trickery, just as his big-screen premiere is imminent.
Cinema Con: We've Seen Hawkeye In Thor And It's More Than A Walk On – CinemaBlend.com
Jeremy Renner is playing Hawkeye in Avengers but now we know that the first place you'll see the character is in Thor this summer. The scene we saw featured Renner as Hawkeye, working with the infamous Agent Coulson, played as he was in the Iron Man movies, by Clark Gregg. The scene features Hawkeye using his famous bow and arrow and he has multiple lines, so while we're talking about something a little more than a momentary cameo, there's no way to know if his involvement will go any further than that one scene.
"Fear Itself" Results In The American Panther – Comic Book Resources
Marvel Comics has sent CBR News the following teaser image offering an exclusive look at what is presumably the Black Panther's next identity: American Panther. The publisher would disclose no information regarding the character or image other than to say "Fear Itself" will have a "huge impact" on "Black Panther: The Man Without Fear." Currently written by David Liss, the series is illustrated by Francesco Frankavilla, who also drew the American Panther character study.
"Godzilla" ready to do what he does best — wreak havoc on Japan – SignOnSanDiego.com
But what coincidences. This fantasy eerily echoes Japan's factual woes, which began with March 12's deadly temblor beneath the Pacific. "Godzilla" also begins with a lethal threat erupting from the sea. The earth cracks. Buildings crumble. People die.
UPDATE: Epic Thor IMAX Poster Features New Image Of Chris Hemsworth!
brand new IMAX poster for the upcoming Marvel Studios release, featuring an epic new shot of Chris Hemsworth as Thor wielding Mjolnir…
Warner Bros. Takes Control of DC Comics' Licensed Publishing
We already manage all of DC's properties in every category except publishing, and we've managed publishing for all of our own properties, so why shouldn't we apply that expertise to DC Comics' publishing, too?"
"I want him to be huge and disgusting, tearing limbs and blowing people apart with fire shooting out of his mouth. So far Sam Keith has accomplished all that."
Kodansha To Put Manga Magazines Online Post-Quake
A post at Anime News Network notes that Kodansha is going to put Weekly Shonen Magazine, Young Magazine, Morning, Evening, Be-Love and Kiss on-line for free because of the norther Japan earthquake and subsequent tsunami. This follows a similar, more limited move by Shueisha, and news reported in the Asahi Shimbun newspaper that dozens of children shared a single available issue of Weekly Shonen Jump at a store in Sendai — ANN says this is that story.
Better-Quality Thor TV Spots | Superhero Hype
ere are better-quality versions of the two new Thor TV spots that started airing this weekend. The anticipated film hits 3D and 2D theaters on May 6.
Comics Artist Phil Jimenez Talks Collaboration on Vimeo
Making a comic book requires a tight collaboration between writer and artist. Here artist Phil Jimenez talks about his work with writers and what his process is.
First Look: Booster Gold Rushes Into the Smallville Spotlight – Today's News: Our Take | TVGuide.com
Get ready, Clark Kent, there's a new golden boy in town. On April 22, Smallville introduces Booster Gold, "a glory-seeking showboat from the future," says Days of Our Lives star Eric Martsolf, who plays the DC Comics cult favorite. "The episode takes place in Booster's very early stages where he's at his conceited best, where he believes he can do whatever he wants. He's gonna stay for the photo op and bask in the glory of his heroic efforts."
Inside the Kooky Quartet of FEAR ITSELF Tie-In FEARSOME FOUR | Marvel Comics | Brandon Montclare | Michael Wm Kaluta
And this whole Fearsome Four business started when I gaudily suggested I could make Nighthawk Marvel's best selling title.
(Last Updated
March 29, 2011 5:35 am
)
Related Posts
None found