Samantha LaFountain  and Greg Baldino write for Bleeding Cool
Want to know about an independent comic publishing company and studio, compiled of all Chicago based creators and is full of completely unique and over the board comics? Check out Four Star Comics booth, located in the Web Comics Pavillion (WC07), and you'll find amazing artwork and storytelling.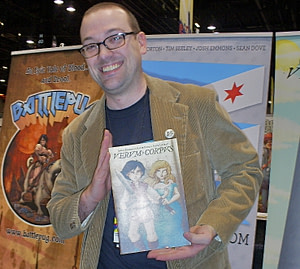 Heading the booth is Joshua Emmons who wrote Verum Corpus with artwork by Katie Cook and Mike Norton. He'll explain to you about their awesome iPad app they created and designed themselves. The iPad app is only 99 cents a comic and features the ability to see the art in any form (pencil, ink, colored without word balloons). On top of that, you can also read creator commentary as you are reading the comic. It even features life-like page flipping capabilities! Don't have an iPad? Not a problem! You can read the comics on their website at: www.fourstarcomics.com or you can buy them as a .pdf off the website! Put them on your phone or print them out and wallpaper your room with them! Only 99 cents an issue! Save some trees for a great price.
Four Star Comics is a collaborative studio located in Chicago with the masterminds including Mike Norton, Tim Seeley, Joshua Emmons, Sean Dove and so many more amazing creators. Their idea really only started out as an experiment with digital comics, finding amazing creators to collaborate with one another by doing eight pages each but with different genres. Coming soon will be Double Features Comics (doublefeaturecomics.com) which will showcase all ages superhero comics! Yes, all ages! Some creators who will be featured in this upcoming project are Mike Norton, Phil Hester, B. Clay Moore, Chris Burnham, and so much more it will make your brain explode.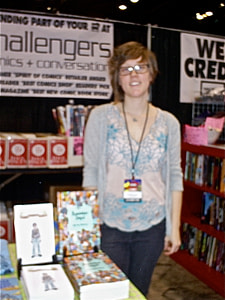 So looking for quality digital comics with creator freedom and enthusiasm? Then Four Star Comics is just what you were waiting for. (SL)
Autobiographic cartoonist Lucy Knisley was at the Challenger's Comics + Conversation booth Friday, signing copies of her new book Make Yourself Happy, a sequel to her previous collection Radiator Days, as well as 2 new mini comics, Salvaged Parts and Here at Hogwarts. A graduate of the School of the Art Institute of Chicago and the Center for Cartoon Studies, Knisley's work can be found online at stoppayingattention.com(GB)
Tiny Kitten Teeth is an all painted webcomic that is so sweet, it will make your teeth ache. So quickly prepare yourself for a root canal of adorable as you type www.tinykittenteeth.com into your web browser.
Becky Dreistadt and Frank Gibson are the super duo behind this squeal-inducing comic and can be found in the Webcomic Pavillion (WC12) at C2E2. Here you can find beautiful prints and even a copy of Tigerbuttah, an original graphic novel that is printed in the style of the old-school golden kids books (remember the ones with the shiny spines?). Not to mention all the full color prints and printed issues of the web comic.
The web comic itself, Tiny Kitten Teeth, is about a cat moving to a new city, Owlstown to be exact. On his first move in day, he's already bombarded by the welcoming crew made of an Owl named Hootenanny and Regal Beagle who are gonna show him the ropes of the neighborhood, teach him the secret handshake and give him a make-over for the party their throwing for him. With charm enfused in every word and art that makes you want to put it on a blanket and cuddle with it every second of the day, Tiny Kitten Teeth is a comic to watch out for!
Becky and Frank originally are from New Zealand and just recently moved to Los Angeles. Becky had her art featured in the most recent Yo Gabba Gabba graphic novel from Oni Press. And they even slipped in a rumor that they may or may not be having a graphic novel coming out from a certain company that prints graphic novels (but you didn't hear it from me!).
Make sure to check out the comic at www.tinykittenteeth.com and see why Tiny Kitten Teeth is my new obsession.(SL)
You can find triple threat Dave Crosland (artist, <a href="http://www.thevariants.com/2009/12/the-variants-web-series-episode-five/">performer</a>, gentleman) at booth K3 in Artist's Alley, showing off artwork from his web project Alphabet Attack and stories from the Yo Gabba Gabba and CBGBs collections He's got a new self-published book in the works and a new website soon to launch, but for now you can still find him at hiredmeat.com(GB)
When you read a title like Super Maxi-Pad Girl, you can't help but stop and stare at the brightly colored cover. Birthed from an argument between collaborating duo and married couple, Daniel J. Olson and AJ Niehaus, Super Maxi-Pad Girl has a style all to its own.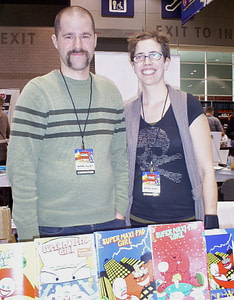 You want girl power, then check out this hilarious black white comic that has been called the Best Indie Surprise of 2008. The comic features a super-heroine titled (can you guess?) Super Maxi-Pad Girl! With a curvaceous body, bright blue eyes, and no arms, this pad is fighting villains as dastardly as The Period but for only once a month.
This book is great for 24 pages filled with laugh out loud jokes about that certain time of the month and knocking down that taboo of a woman's menstruation. It answers important questions like, what does Super Maxi Pad do when to fill her off season during a pregnancy? Start a school for wizardry? Become a pro wrestler? And even better is the League of Feminine Products who help fight alongside Super Maxi Pad Girl.
Alongside this power couple writer/creator team, Danno Klonowski, has helped plot and write many of the Super Maxi-Pad Girl story lines which are riddled with heart-pounding action. Like in Issue #3 where Super Max-Pad Girl because a dark futuristic vigilante…I won't give away too much because this book should definitely be bought.
Super Maxi-Pad Girl is an independently printed comic book and you can find it at C2E2 at Artist Alley Booth (N7). You can also go to their website and order Super Maxi-Pad Girl online! Check out www.bewilderedkid.com to find issues and more of Daniel Olson's awesome comics. While Klonowski was unable to make it to C2E2 I was able to check out all of his non-Super Maxi-Pad Girl work, such as, Tommy Chicago and Manly Tales of Cowardice. I recommend checking out his site as well, www.staplegenius.com!(SL)
When told that her book Beasts of Burden was featured in the C2E2 library panel as an excellent gateway book that anyone can enjoy, she replied "That's what I always wanted to do, a book that you could just pick up and read." While leaving the retailers to carry her published books including Scary Godmother and Magic Trixie, she's selling prints, patches, and a new mini art book at her own booth H4. Find her online at jillthompsonart.com(GB)
Samantha LaFountain is like the Wind, and Greg Baldino like the Lion. He forms the Tempest. The sand stings her eyes and the Ground is parched. He quotes Sean Connery movies in defiance but she does not hear. But between them,there is a difference. He, like the lion, must remain in his place. While she, like the wind will never know hers