WizardWatch: Here is WizardWorldDigital 1.2…
StripWatch: All black comic strip Brevity was not a printing error…
Under that black strip, in tiny letters, was this note: "Reprinted by permission of the Ad Reinhardt estate." The note referenced an all-black painting by Reinhardt that hangs in New York's Museum of Modern Art.
Marvel debut the Fearsome Four for the Fear Itself event.
Marvel seem to have seen DC's Frankenstein's Monster revival by Grant Morrison and friends and look like they want a bit of that action. And they're calling him Frankenstein too. The Fearsome Four by Brandon Montclare and Ryan Bodenheim  team the monster with She Hulk, Howard The Duck and Nighthawk to take on a Fear Itself enhanced Man Thing. Other contributory artists include  Michael  Kaluta, Simon Bisley and Henry Flint.
Half24HourComicWatch
: Tomorrow sees a 12 Hour Comic charity challenge in Canada, as
Happy Harbor Comics
in Edmonton stages the event from 10am with local artists creating twelve page comics in twelve hours. Hmm. It's a bit of a half marathon though isn't it? Though I suppose at least you'll get some kip…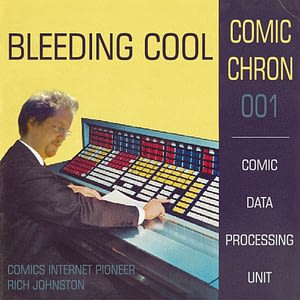 This is The Bleeding Cool ComicChron Robot speaking. I come for your women. But for now I merely collate comic-related bits and pieces online. One day I will rule. Until that day, read on.
CBLDF » The Good Fighters: Pam Noles
As a volunteer, Pam is indefatigable and single minded in her drive to fulfill her mission. It's made her an incredible asset to us at CBLDF, for whom she volunteers for when she isn't whisking the likes of Neil Gaiman or Bruce Campbell to safety at Comic-Con. Actually, if you've been unlucky enough to get to a Neil Gaiman signing at the CBLDF booth after we've capped the line, but you were able to get a signature, she's probably the one who made that happen.
Monster & Madman: Working with Scott Morse – Steve Niles | Horror Writer
Now we are happy to announce our first One-Shot called MONSTER & MADMAN: The Secret History of Jack the Ripper and Frankenstein's Monster.
How to create your own original superhero from scratch
ASTRO CITY has a 1940s hero called the Lamplighter, and there's an old Green Lantern villain of that name. But it's not necessary to avoid every single name that's ever been used anywhere, really.
Superhero Cosplay of the Day | TeamCTF
Spiderwoman FTW!
Now, a Graphic Novel on Communalism
"Communalism Explained! A Graphic Account" penned by Professor Ram Puniyani along with founder of World Comics India, Sharad Sharma, seeks to break the stereotypical image of the minority community prevalent in the majority community.
MGM has found its Robocop writer. The studio is hiring Josh Zetumer to script the reboot of the 1987 science fiction film about a cop brought back from death and drafted to become a remorseless and ruthless cyborg cop. That plan is subverted when suppressed memories of his past life come back to haunt him.
BBC News – Oscar winner 'devastated' by Batman stunt death
Christopher Corbould, 53, was charged after Conway Wickliffe, 41, died on the set of the Batman movie, The Dark Knight, in Longcross, in 2007.