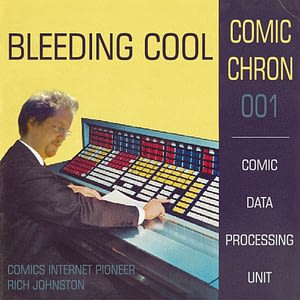 This is The Bleeding Cool ComicChron Robot speaking. I come for your women. But for now I merely collate comic-related bits and pieces online. One day I will rule. Until that day, read on.
Britain's first real-life female superhero on mission to rescue abused pets | The Sun |News
BRITAIN'S first real-life female superhero emerged last night – and she saves abused PETS. The mysterious BLACK ARROW claims to have used her secret identity for six years.
Amazing Spider-Man Masterworks Vol. 13 — Images from a key sequence in Marvel history
Death of Gwen Stacy, Green Goblin returns, the Jackal, and the first Appearance of the Punisher.  Masterworks coming next week.
When sad-sack loser Frank (Rainn Wilson) sees his ex-addict wife (Liv Tyler) willingly snatched by a seductive drug dealer (Kevin Bacon), he finds himself bereft and wholly unable to cope. But soon he decides to fight back under the guise of a DIY superhero called Crimson Bolt. With a hand-made suit, a wrench, and a crazed sidekick named Boltie (Ellen Page), the Crimson Bolt beats his way through the mean streets of crime in hopes of saving his wife. The rules were written a long time ago: You are not supposed to molest children, cut lines or key cars; if you do, prepare to face the wrath of the Crimson Bolt!
[youtube]http://www.youtube.com/watch?v=ctcURFb7XE4&feature=player_embedded[/youtube]
Peter Parker Goes to MSHS? | Superhero Hype
SuperHeroHype Forums member 'pacmaster3000' found an interesting photo of a sign that was used for The Amazing Spider-Man shoot. With the sign saying "Midtown Science High School" we can only assume that Peter Parker (Andrew Garfield) and Gwen Stacy (Emma Stone) go to a gifted school where Dr. Connors (Rhys Ifans) would be their teacher. Of course, none of that is confirmed, though it would make sense.
Pat Mills Unwrapped part 1 – the godfather of Brit comics talks with Matt Badham | The Forbidden Planet International Blog Log
Of course no one will ever own up to sexism, jealousy and putting mainstream readers second and fans first, but that' s what lay behind the passive aggression. Editorial really wanted someone like Mike McMahon, Alan Davis or Cam Kennedy to draw it. All their names were put to me. This would have been aimed more at — what shall I say? — hard-core comic fans. But I wanted it to appeal to mainstream fans. The reader in the street, if you like, who is always my target audience.
'Batman Forever' Batmobile up for auction – UPI.com
FORT LAUDERDALE, Fla., March 4 (UPI) — A Florida auction house said the Batmobile from the 1995 film "Batman Forever" is expected to fetch a high bid of as much as $275,000.
Oversight of the Office of the U.S. Intellectual Property Enforcement Coordinator Hearings | A Distant Soil by Colleen Doran
Required reading for creatives who take their rights seriously.
The Spirit of Will Eisner Captured in Museum Show – March 4, 2011 – The New York Sun
It also features a related exhibit work by creators influenced by the legendary draftsman, including such giants as Art Spiegelman, the creator of Maus; Jack Kirby, the artist behind the Marvel superheroes; Jules Feiffer, who began on Eisner's staff and went on to his own glorious career; and Joseph Kubert, who rose to fame via his covers for D.C. Comics, to name but a few of the famous names present.
Two New Photos From Green Lantern | Superhero Hype
Two new photos from Green Lantern are online, thanks to MarvelDC-Universe.com. Opening in 3D and 2D theaters on June 17, the Martin Campbell-directed film stars Ryan Reynolds, Blake Lively, Peter Sarsgaard, Mark Strong, Angela Bassett, Tim Robbins, Temuera Morrison, Jay O. Sanders, Taika Waititi and Jon Tenney.
PREVIEWS: The Comic Shop's Catalog! – Latest News Home
Marvel presents this first look at Captain America And The Secret Avengers #1, from rising star Kelly Sue DeConnick and acclaimed artist Greg Tocchini! The celebration of Captain America's 70th anniversary continues in this high-stakes issue featuring Steve Rogers' covert ops team the Secret Avengers! When the Black Widow and Agent 13 find themselves trapped in the middle of New York, they'll have to use their years of experience in espionage and combat to take on teenage girls fresh out of assassin training! Can they go in guns a blazin' when they're face to face with girls trying to start out just like they did?
America…meet your newest Hero! The lethal alien symbiote known as Venom is in the custody of the U.S. military…and with a familiar face from Spider-Man's world inside the suit, the government's own personal Spidey is going into action as one of the nation's top covert agents in hostile territory