John Holland writes for Bleeding Cool from the floor of New Orleans Wizard World. Yesterday's report can be found here.

Today started a lot slower than yesterday and while it got busier I don't think we quite saw the same crowds we did yesterday.  Still for the second day of the Con there was a good crowd.  I think we had more of an ebb and flow around Artist Alley, while the dealers and the aisle with the tv and movie stars seemed to stay pretty busy throughout the day.
For this post about the second day I thought I'd feature some of the creators that were at the Con. 1) J.A. Sanderlin was at the table to my right.  He wasn't a comic writer or artist.  In fact he had nothing to do with comic books.  He was an author and he was hitting comic book conventions as well as book fairs to help promote it.  His book is a science tale called Eurpoa. He and his wife were only able to stay for the first day and than they had to head back home to Texas.  He was telling me that he was doing good with sales of his book at the Con.  I know his table always had someone in front of it.
2)  Kenny Vavarro was at the table to my other side.  (Ok, I know that's my left, no snide comments.)  Kenny is the creator of that amazing Galactus head I showed you yesterday.  This was Kenny's first show.  Kenny's table was full of more great figures, but he wasn't selling any of them yet.  Lots of people were stopping by his table and if he had been selling he would have been sold out before the first day was even half over with.  He does have plans to make figures to sell.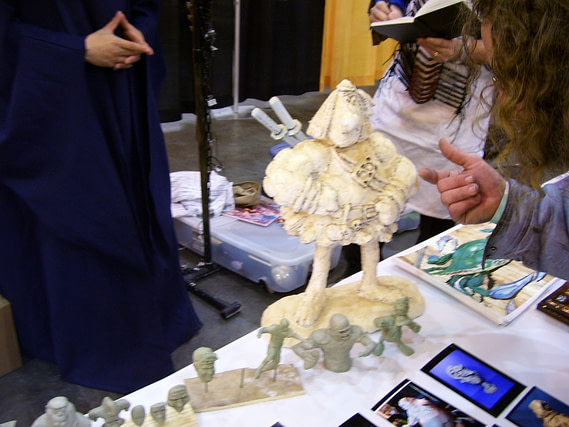 The Spiderman figure is of Zombie Spider-Man.  Another great figure was of Groo that he was still in the process of working on, but brought to the show.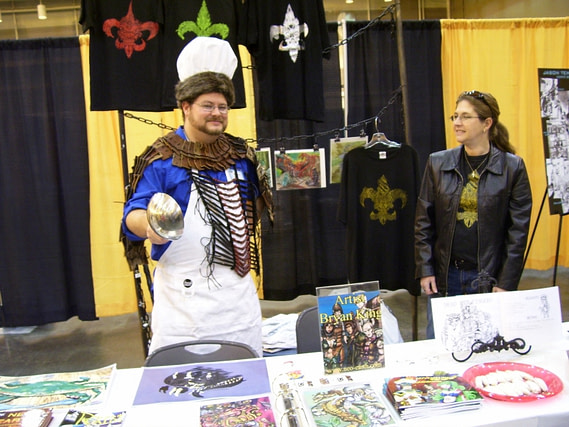 3)  Bryan King of  Neo Earth.  Neo Earth is a web comic that he has reprinted as a hardbound book.  He was telling me that while the book was selling ok, what was moving for him was the extras.  He was selling t-shirts and to his surprise his best selling item was a cookbook he created based on his comic world.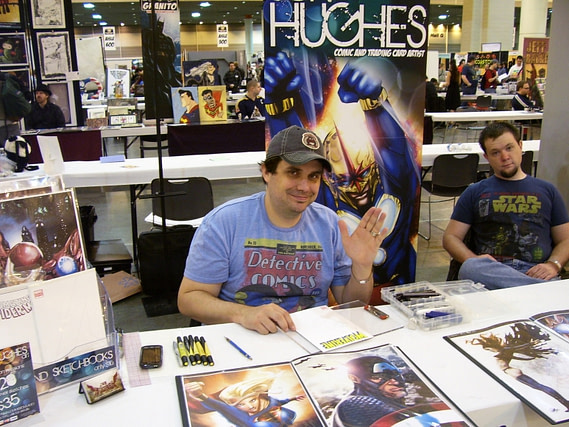 4)  Jon Hughes:  I met Jon at the last NOLA Con and re-visited with him at this con.  Jon is a sketch card artist, which until my first meeting with him I had no idea existed.  A sketch card is a trading card with drawings of comic book characters.  Jon is working on breaking into the more traditional comic book industry.  At cons Jon does sketches and sells prints.  He has some really great looking prints and stays busy with commissioned sketches throughout the con.
5) Robby Musso:  Robby is an old friend that I had no idea was even in the comic industry till that last NOLA Con I mentioned before.  Robby actually worked for me years ago when he was a wee lad and I was one of his managers.  I never realized that he later got into the comic industry and now he draws Transformers and works with Hasbro helping to design them.  Robby's table was always busy this weekend.
6)  Vernon Smith:  Vernon self publishes his work.  He does it on the web first and than collects into nice packages that he sells at conventions.  His newest work is Return of the Lovin' Dead, a reality show where the main character is a zombie.  Even with a newborn Vernon seems to keep working and never slowing down.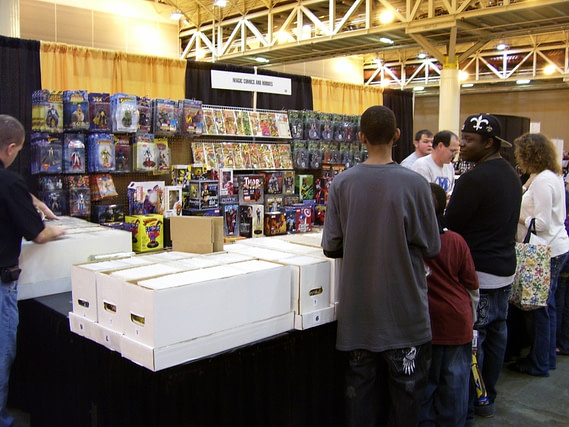 7) Magic Comics and Hobbies:  They were so busy over the weekend that Saturday night they had to travel back to their shop across the lake for more product.  I never saw a slow time around their booth.
8) Media Underground Comics:  Ronnie, the owner of Media Underground, was the creator of NOLA Con, which Wizard World bought and re-named Wizard World.  Ronnie has been working in comics since he was a kid and I shopped his parents shop on the Westbank.  Ronnie told me that he had an excellent weekend.
And that about sums up the weekend.  From my vantage point it was a great con.  I know Wizard gets a bad knock and personally before this weekend I wasn't expecting a lot.  I've never been a fan of their magazine, even though it wasn't directed at my reading habits, and from all the scuttlebutt you hear on the internet I was thinking the worst for the con.  But I was very happily proven wrong and I can't imagine a con going off any better.  Now I can't wait till next year.