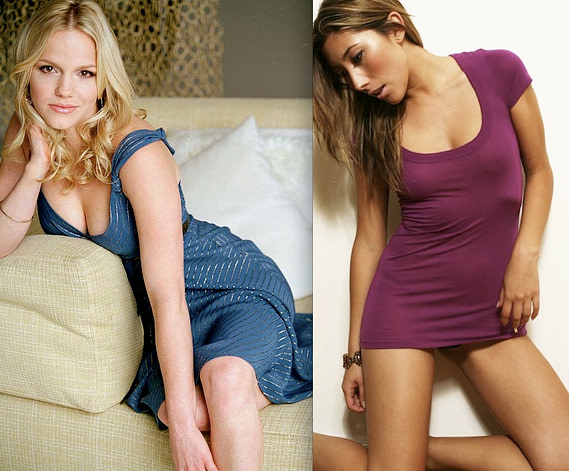 Russell T. Davies has taken the mic at the TCA special Torchwood presentation and spilled more cool beans on how the show will pan out. Let's get this party going with his explanation of the plot premise:
The premise is a miracle happens in the world. One day, on Earth, no one dies. The next day, no one dies. The day after that, no one dies. The [people who are] dying, keep dying … but don't actually die. The possibility of death ceases to exist. Which is great for some people. But it's an instant overnight population boom. The earth relies on people dying … What is society going to do now? Some of the answers are beautiful and brave. Some of the reactions are terrifying.
EW were first with the transcript.
The plot certainly suits the show's new name. Once to be called Torchwood: The New World, in reference to the movie to America, the series is now going by the name Torchwood: Miracle Day.
And that plot also explains why Bill Pullman's character, Oswald Jones, a paedophile on death row, survives attempted execution by lethal injection.
We've had more casting recently, courtesy of TV Line. Dollhouse alum Dichen Lachman will appear in the first episode and, for the moment at least, no more; Alexa Havins has won the coveted new female lead role of Esther Katusi. She's the optimist with a burning crush for her colleague, Mekhi Pfifer as CIA man Rex.
Also according to TV Line, the show will be using Bruce Willis' compund in LA as a location for the Torchwood base of operations. I assume they'll only be using the exterior. It's an in with Willis, anyway. Maybe he can just step out onto the lawn for a cameo sometime?
The show will start in July, but not necessarily on July 1st, as widely reported across the blogosphere. The BBC have announced that this date was just a bit of wishful thinking on the part of an unofficial tribute Facebook account. We still await news on when exactly that Torchwood will try the tremendous feat of following Children of Earth.
UPDATE: And here's the full press release from Aunty Beeb. It sounds like good stuff.
Bill Pullman, Mekhi Phifer, Alexa Havins and Arlene Tur join John Barrowman and Eve Myles for new series as plot and character details exclusively revealed.

Los Angeles, U.S – January 7, 2011 – BBC Cymru Wales, BBC Worldwide and US premium entertainment network, Starz Entertainment, today announced new cast, plot and character details for the new series of hit BBC ONE hit drama Torchwood. This highly anticipated new series will have the title Torchwood: Miracle Day and will premiere this July.

ER and Lie To Me star Mekhi Phifer will play Rex Matheson, a C.I.A. operative who joins forces with Captain Jack and Gwen Cooper to fight a global conspiracy that reaches from Washington to Wales and the slums of Shanghai whilst Bill Pullman, best known for his big screen roles such as While You Were Sleeping and Independence Day will take on the role of Oswald Danes, a convicted child killer who survives his own execution to become the most infamous man on the planet.

Also making their Torchwood debuts are Alexa Havins as Esther Drummond, a deskbound C.I.A employee who dreams of active duty and who suddenly finds herself running alongside Jack, Gwen and Rex; and Arlene Tur as Dr Vera Juarez, a Washington D.C. surgeon, who ends up on the frontline of medical care on "Miracle Day" advising the government think-tanks on the best course of action for the world's population.

The plot of Miracle Day is the most explosive Torchwood storyline yet. One day, nobody dies. All across the world, nobody dies. And then the next day, and the next, and the next, people keep aging — they get hurt and sick — but they never die. The result: a population boom, overnight. With all the extra people, resources are finite. It's said that in four months' time, the human race will cease to be viable. But this can't be a natural event – someone's got to be behind it. It's a race against time as C.I.A. agent Rex Matheson investigates a global conspiracy. The answers lie within an old, secret British institute. As Rex keeps asking "What is Torchwood?", he's drawn into a world of adventure, and a threat to change what it means to be human, forever.

John Barrowman and Eve Myles will return in their roles as Captain Jack Harkness and Gwen Cooper respectively.

The 10-episode instalment has been written by a team led by Torchwood creator, Russell T Davies, and produced by BBC Worldwide Productions. Davies and BBC Worldwide Productions' SVP Scripted, Julie Gardner, return as executive producers with BBC Worldwide Productions EVP Jane Tranter, and BBC Wales' Bethan Jones. The series has been commissioned by Controller BBC Drama, Ben Stephenson, and Starz President and CEO, Chris Albrecht.

BBC Worldwide, having previously distributed Torchwood to territories such as Korea, Japan, Italy, Spain, Israel, Russia and across Latin America will distribute the new series to broadcasters globally.

While previous series were based on location in Cardiff, Wales, this new instalment will feature locations in Wales, the US and around the world.

The series was originally commissioned and produced in 2006 by BBC Cymru Wales, with the latest high octane series, Torchwood: Children of Earth capturing UK audiences of more than 6 million.

CHARACTER DESCRIPTIONS

REX MATHESON (Mekhi Phifer)

He's the golden boy. The embodiment of the American dream and has been all his life. Harvard education, Rex is destined for success and could make a fortune in Wall Street or Hollywood, but he chose the C.I.A. because he believes in justice and will fight for it. He can talk his way into anything, then charm his way out, fast. This may be just what he needs as he joins forces with Jack and Gwen to fight a global mystery behind "Miracle Day" that has them racing from one crisis to another, dodging assassins, blackmail, corruption and conspiracy, from Washington to Wales and the slums of Shanghai.

CAPTAIN JACK HARKNESS (John Barrowman)

Jack looks like a hero. He's handsome, witty and subversive with a killer smile. But there's a reason for that glint in his eye. His dashing style hides a secret. Truth is Jack Harkness is immortal, the only one of his kind. He once ran the Torchwood Institute, a British organization dedicated to fighting the strange and bizarre. But Torchwood closed down, and Jack disappeared, to start yet another of his many new lives. When a new, epic danger affects the whole planet, Jack finds himself back at the center of events, fighting not just for his own life, but for everyone on Earth.

GWEN COOPER (Eve Myles)

Gwen once lived the ultimate double life – the funny, salty, earthy woman who loves home and family, combined with the tough, ruthless warrior, who loves the thrill of the fight. She was the heart and soul of an organization called Torchwood. She was a defender of the human race. But now she lives in seclusion, with her devoted husband Rhys and baby Anwen, knowing that one day trouble would come calling again. When events surrounding "Miracle Day" push Gwen to the limit, she'll need to call on resources she never knew she had and make the most terrible decisions, on behalf of all mankind.

ESTHER DRUMMOND (Alexa Havins)

Esther is an innocent, in a world of assassins, liars and zealots. She got where she is with the C.I.A through diligence and application. Hard work keeps Esther focused but she still dreams of active duty as a field agent serving her country. The dream is going to happen faster than she thinks and in no time at all, Esther finds herself running alongside Jack, Gwen and Rex, living off the grid, gun in hand, fighting a global conspiracy against enemies ranging from big business to the state. It's a tough, brutal, hard lifestyle where survival is hard won and life-changing choices have to be made.

OSWALD DANES (Bill Pullman)

Well-educated and a former school teacher, Oswald's a convicted child killer, both guilty and unrepentant. But when Oswald survives his own execution, he's given a whole new life. The most infamous man in the world, he becomes the most provocative figure in modern media. He's a flare, reviled yet mesmerizing, whose very existence embodies how the world changed on "Miracle Day".

DR. VERA JUAREZ (Arlene Tur)

An attending surgeon in Washington D.C., she's smart, fast talking and hard working, Vera is on the frontline of medical care on "Miracle Day". As the world crisis grows, Vera's surgical and ER experience sees her recruited to advise on government think-tanks until she has to make a moral choice of enormous consequence. Sexy, confident and passionate, Vera's life is soon inextricably tangled up with Rex's.