LateNewsWatch: Chicago Now picks up on the AMC-banned Comics Vault ad we ran last week on Bleeding Cool
CatWatch: The Garfield Veterans Day Conspiracy kicks up a notch as it emerges that Jim Davis did plan for the offending strip to run on the 11th of November after all.
TheOtherWatch: Rod Usher of The Other on his only-available-in-Germany comic.
Our first comic-book was published in 2007. It was a very special thing for us, especially because we didn't print and publish it ourselves, but worked with a publisher that is well known in Germany for cool Horror comic books. I wrote a treatment with an outline of the story and some dialogue suggestions and the guys at the publishing house made that into panels. It was incredible to see page after page come to life. The story is about each character's history and how our Doctor Caligari (drums) resurrected us to form a band. It's an homage to the old EC horror comics and we're really happy how it turned out. Right now, we're working on the second part of the book and it should be released in early 2011. Since our new album is doing really well in the US, the publisher is thinking about combining both books into a paperback and translating them into English. We really hope it'll work out 'cause the interest in the band and our comic book seems to be growing all the time.
CultureWatch: Virginia sees art and comics clash in a party to launch a new comics exhibition at the Arlington Art Center.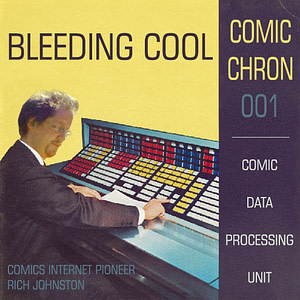 This is The Bleeding Cool ComicChron Robot speaking. I come for your women. But for now I merely collate comic-related bits and pieces online. One day I will rule. Until that day, read on.
Interview with Wes Yanagi, Senior Producer on DC Universe Online
it was part of when the Monolith guys were doing Matrix Online, and I think they were originally developing the DC Online game too, so it was part of the acquisition of Matrix Online and everything – that whole bundle came over to SOE (Sony Online Entertainment) – and then as part of that, during that process that's when Jim Lee signed on board
EXCLUSIVE: Swedish Duo in Talks to Direct 'Underworld 4'
Production is set to start in March in Vancouver. John Hlavin wrote the script, which underwent revisions by comics writer and The Changeling scribe J. Michael Straczynski.
Comic book depicts Pacman's rise to greatness
Entitled "Pacquiao: Winning In And Out Of The Ring", the comic book is an all black-and-white project, which highlights the life and times of the Filipino boxer, from his days as runaway child from General Santos City until he became known throughout the world as a boxing champion.
Mary Jane / Black Cat Burlesque by Katherine Curtis

Rumor: Will the Thor Trailer be with TRON: Legacy?
the very first teaser trailer for Marvel Studios' Thor, starring Chris Hemsworth, Anthony Hopkins and Natalie Portman, may be showing up in front of Disney's TRON: Legacy when it opens on December 17.
Enjoyed this article? Share it!