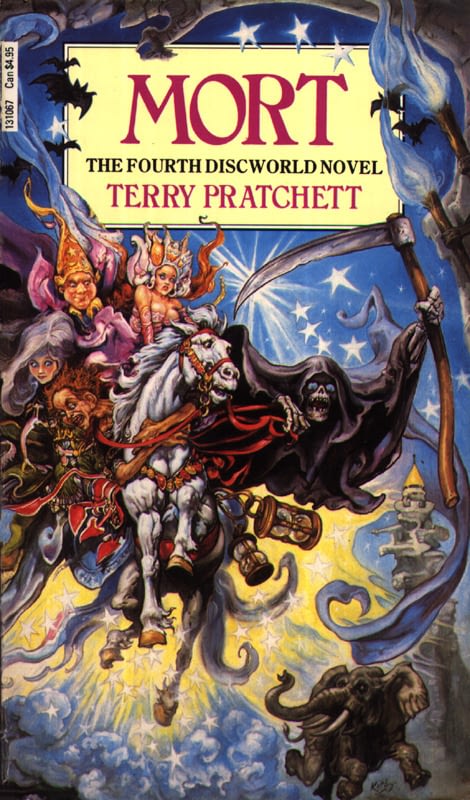 Bleeding Cool have recieved a tip-off that Ron Clements and John Musker, directors of The Princess and the Frog, Treasure Planet, Aladdin and other Disney animated features, are working on an adaptation of Terry Pratchett's Mort.
If you don't know the novel, here's the official blurb from Pratchett's site:
Although the scythe isn't pre-eminent among the weapons of war, anyone who has been on the wrong end of, say, a peasants' revolt will know that in skilled hands it is fearsome.

For Mort however, it is about to become one of the tools of his trade. From henceforth, Death is no longer going to be the end, merely the means to an end. He has received an offer he can't refuse. As Death's apprentice he'll have free board, use of the company horse and being dead isn't compulsory. It's the dream job until he discovers that it can be a killer on his love life…
Mort was the fourth of the Discworld novels and remains my favourite of Pratchett's works.
If this seems a little unexpected for a Disney animation project, remember that the studio has also been working on a feature film of Philip K. Dick's King of the Elves, and in the 80s adapted Lloyd Alexander's The Black Cauldron. Casa de Mickey  is as good a home for Mort as Mort is a good project for Ron and John.
Incidentally, the book seems well suited for musical treatment having already become a song-n-dance show twice over, in one production from Germany and a different one in the UK.
Consider this no more than rumour for now, but our source is a good one. Stay tuned for updates.
Enjoyed this article? Share it!