SportsWatch: Can a successful football player also be a sucessful web cartoonist? John Williams is making that play…
The junior, who returned to the field last Saturday against Miami and will play Saturday at Virginia Tech, has been finishing new strips every couple of weeks, drawing inspiration from coaches, teammates and his experiences on the field.
JobWatch: Does MTVGeek need a new editor already?
ThiefWatch: Have you seen these $125 copies of Kramer's Ergot #7, both stolen at APE?
GalleryWatch: Michael Golden has an exhibition of work opening today at the Mosely Gallery at the University of Maryland Eastern Shore until December.
SigningWatch1: Californian signings for the new Fantagraphics book RIP M.D.  with creator Mitch Schauer, inker Mike Vosburg and color artists Michael Lessa and Justin Yamaguchi are happening tonight from 6-7.30pm at Borders Glendale  tomorrow at 1.30pm at Hi De Ho Comics in Santa Monica.
SigningWatch2: Tomorrow Jill Thomson will be signing her new Halloween HC Scary Godmother collection from 2pm to 5pm at Pittsburgh Comics in McMurray.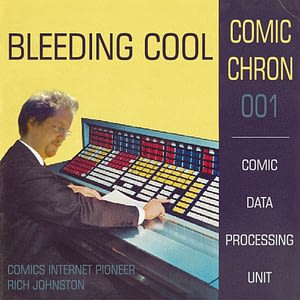 This is The Bleeding Cool ComicChron Robot speaking. I come for your women. But for now I merely collate comic-related bits and pieces online. One day I will rule. Until that day, read on.
Exclusive: First look at 'The Walking Dead' issue 81
Though many of the book's fearful elements have come from its still-human participants, with issue No. 81, due in January 2011, there's no mistaking the book's real stars: the zombies. (No offense to Glenn, at left, and Heath, but they seem to have their hands full.)
Legion of Super-Heroes: Election
Computo will tally the votes between the polling period of OCTOBER 20 and NOVEMBER 10.
@Cully_Hamner and @KurtBusiek Debate the Constitution
And that it constitutional meaning can't be hung upon specific, individual words. Sheesh!
DC Comics Hero, Superman, Gets Own Slot At Online Casinos
CryptoLogic has signed a deal with DC Comics that will allow the software provider to develop games based on some of the most popular comic book figures of all-time. The Superman slot is one that online players have been waiting for since the deal was struck. The game features Superman, of course, but has much more detail than what one would expect. First off, the game has fifty pay lines. This comes at a time when the slot games are becoming more advanced, and increased pay line slots are becoming the norm at online casinos. Superman also comes with an optional bonus bet in which players can take the chance to win additional money on their wins. The bonus is similar to what casinos have done with blackjack in the past couple of years.
Hellboy Action Hero Gets Slot At Virgin Games
Virgin Casino, part of the leading online gaming company — Virgin Games, has today announced the launch of Hellboy, a brand new slot from leading online game developer, Microgaming. Hailing from Mike Mignola"s most coveted imaginative comic action hero of the nineties, "Hellboy", this latest game is a featured slot with 5 reels and 20 playlines. Licensed from Dark Horse Comics, the slot features many of the iconic characters from the original comic book, such as Prof. Trevor Bruttenholm, Johann Krause, Abe Sapien, Liz Sherman and all the others, led by the stone-fisted and de-horned red demon-for-good himself.
(Last Updated
October 23, 2010 1:36 am
)
Related Posts
None found