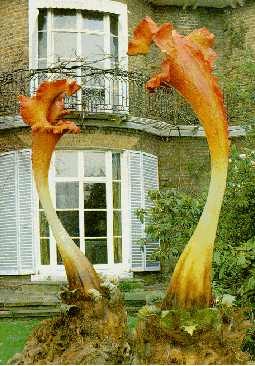 I'm not sure that John Wyndham's Day of the Triffids has ever really been done justice on screen, but both a BBC 1981 production and the 1962 film have their moments. A most suitable project for revival, I feel.
The rights have sat with Michael Preger for some time, and he's been collaborating with Angry Films to get the ball rolling. Now, it's not only rolling, it's getting bigger like a snowball made of money and producers. Deadline have reported that Sam Raimi and Rob Tapert's Ghost House have come on board to bolster the number of cooks in the kitchen/fingers in the pie/shoulders to carry the load/minds to be better than one.
The Deadline report says that this is the first time Mandate, Ghost House's umbrella, have paid for a packaged project but the reason is simple: Raimi really wants in. Indeed, he's looking to direct the project himself and, apparently, the '62 movie was a favourite of his when young.
With Triffids, Raimi will be starting from good, solid foundations; with his Oz movie, he's having to rebuild from the ground up. Either way, he knows exactly what he's doing.
Incidentally, the last we heard, this was to be a 3D production. I know the decisions on 3D keep flip-flopping all the time, but assuming it sticks I think it's of note here for a couple of reasons:
One, it means that both of Raimi's projects to have their engines running are set for stero vision.
Two, we'll be getting a 3D film in which blindness plays an integral role. Oh, the irony. Etc.
Anyway. It all sounds good to me. Next question: who is going to write the screenplay?
Enjoyed this article? Share it!