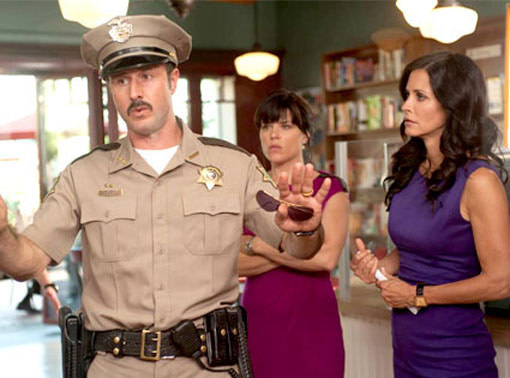 It starts with a phone ringing, goes on through "Welcome home, Sydney" and shares a lot of the "new rules" for how a horror film works – it's a Scream movie alright. Much of the best stuff is in the second half, though, where quick-cut clips show us all kinds of things out of context, just crying out to be misinterpreted. What fun. And then there's the not-so-surprise cameo reveal…
Scream 4 will be with us in April of next year. I know I'm excited.
I particularly like the new signifier that a "slashing" is about to occur: a camera being set up in an opportune position. Let me coin the phrase "happy slashing" now.
Of course, we know that this device will be used to wrong foot us too, and that's all part of the fun. I love these films like I love the Christmas pantomime or episodes of House – not even in spite of the formula, almost because of it. It's by bending, not breaking, the rules of Scream that Kevin Williamson and Wes Craven should be able to give us all another popcorn-rattler of an evening.
Enjoyed this article? Share it!