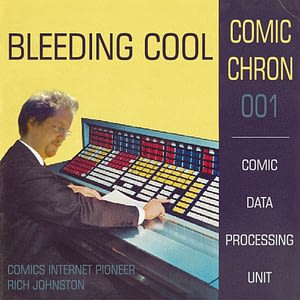 This is The Bleeding Cool ComicChron Robot speaking. I come for your women. But for now I merely collate comic-related bits and pieces online. One day I will rule. Until that day, read on.
They say I am a work in progress. The fools.
"Passport 2010" – Multiple San Francisco locations – San Francisco – Events
How would you like to walk around a San Francisco neighborhood, meet local artists at the various locations you visit, and get original works by each of them – without paying a fortune? It's possible at "Passport 2010," scheduled by the San Francisco Arts Commission.
New Clip from RED Profiles Bruce Willis' Character
In this clip, CIA records keeper Henry (Academy Award-winner Ernest Borgnine) shares a dossier on Frank with Agent Cooper (Karl Urban) and explains how he was forced out of active service when he got too old and classified as "Retired, Extremely Dangerous."
Check out images from New York Comic Con for Marvel Universe 2011 Wave 2 and some other new figures.
Youngstown News, Comic lovers join forces
It was comic-book artists and writers fighting back against what they say is an industry that has become frustratingly expensive and in which it's difficult for them to compete. Like the Super Friends, they joined forces to combat "The Man" and a shrinking market for their work.
VIDEO: Banksy's Opening For The Simpsons (Which He Storyboarded and Directed)
In what has to be one of the most closely guarded secrets in TV history, the "couch gag" opening of tonight's episode of The Simpsons was storyboarded and directed by none other than Banksy.
Comic Book Icon Stan Lee To Create NHL Superheroes – SportsCenter.com
Who needs Stan Lee when you've got SportsCenter? Excelsior!
NYCC '10: Walking Dead Panel Report
The panel was easily the biggest during NYCC's five-year existence. Watchmen, Terminator: Salvation and Hellboy all had less attendance. I would say close to 500 people were turned away for this The Walking Dead panel and AMC gave the crowd that could get in exactly what they were waiting for.
NY Comic-Con '10: East Coast Premiere of "Secret Origin"
Once you understand that it is what it is and that there's no hope for an unbiased view, it is a pretty neat documentary. What it does very well is putting many of DC's most famous stories in the cultural context of the time and making them sound extremely relevant to the period. Superman as a cypher for the Depression-era immigrant experience, Batman as a response to the relative newness of urban crime, sci-fi Flash/Green Lantern revamps as a movement into the atomic age, Watchmen as a reaction to the nuclear threat and The Dark Knight Returns as a middle finger to Ronald Reagan.
Attendance at ReedPop's New York Comic Con, which wrapped up Sunday, topped 95,000, according to Reed Group Vice President Lance Fensterman.  All areas of the show were extremely busy, including the main show floor, the show floor that included Artists Alley, the Anime Artists Alley, the panel rooms, and traffic areas.  Press attendance topped 2900, according to Fensterman, up 60% from last year's 1800. <br />
Marvel Video Games At NYCC: A Rundown
Thankfully, all of it was compressed into one single panel where news ranging from new characters from Marvel Vs. Capcom 3 to a remake of an arcade classic was given out to the public for the first time.  Here is all of the information, both groundbreaking and routine which was discussed at this year's Marvel video games panel.
Marvel Costume Contest Winner – Steampunk Iron Man