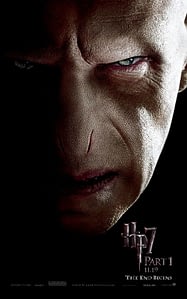 This could make for some interesting blog posts around the wub tonight… or it could make for the same sort of uninformed waffle that normally surrounds all discussions about 3D filmmaking.
Contrary to their previously announced plans, Warner Bros. have now revealed that they won't be releasing Harry Potter and the Deathly Hallows in 3D. Or, at least, they won't be releasing part one in the format this November. We don't know if the second part will still undergo dimensionalization, or if the first part will be later re-released in stereovision. Here's some official comment, courtesy of The Hollywood Reporter:
In a statement released Friday, the studio said that when Harry Potter and the Deathly Hallows Part I arrives in theaters on Nov. 19, it will be in 2D, playing both conventional theaters and IMAX, but that "we will not have a completed 3D version of the film within our release date window."

The statement continued: "Despite everyone's best efforts, we were unable to convert the film in its entirety and meet the highest standards of quality. We do not want to disappoint fans who have long-anticipated the conclusion of this extraordinary journey."
Are they still considering a finished 3D version, maybe to hit cinemas ahead of part 2's release in the summer? I wouldn't be surprised. Similarly, I wouldn't be surprised if not. Whatever they do, they seem to have the support of director David Yates. He has said:
This decision, which we completely support, underscores the fact that Warner Bros. has always put quality first.
None of the recently release character banners mentioned 3D anywhere, so maybe some of you sensed this coming. I'm kicking myself for not.
Enjoyed this article? Share it!