LocalWatch: Jose Alaniz goes through a personal trauma giving away his twelve longbox collection of comics to his local Arizona library. And it makes news. And seems to say that twelve long boxes is, in any way, a large collection. Um…
LocalWatch2: Kaare Andrews gets some love from local Vancouver press over his Altitude movie.
LocalWatch 3: Virginian 24 hour comics and cartoonists from the likes of Kevin Copeland, Tyler Owens and William "T" Campbell get profiled as part of National 24 Hour Comic Day.
NationalWatch: Gotham Chopra gets profiled in US Today.
ACT-I-VATE-WATCH: Chris Tarrant interviews Jeff Newelt about… everything.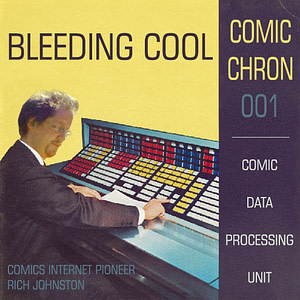 This is The Bleeding Cool ComicChron Robot speaking. I come for your women. But for now I merely collate comic-related bits and pieces online. One day I will rule. Until that day, read on.
Will Ferrell joins over 1500 superheroes as they break the world record for largest gathering
It was the first time EVER that 1580 people dressed as superheroes had been in the same place at the same time – and the Guinness Book of World Records was on hand to document it.
Have you always wondered what your favorite websites would look like with ComicSans as the font? Wonder no more!
ElfQuest fan-film blessed by the Pinis
A group of ElfQuest fans with a good track-record for producing excellent web-videos have secured Elfquest creators Richard and Wendy Pini's permission to produce a fan-film based on the series.
Enjoyed this article? Share it!